Our Blog
LED Screen Rentals for Video Conferencing, Concerts and Safe Worship Services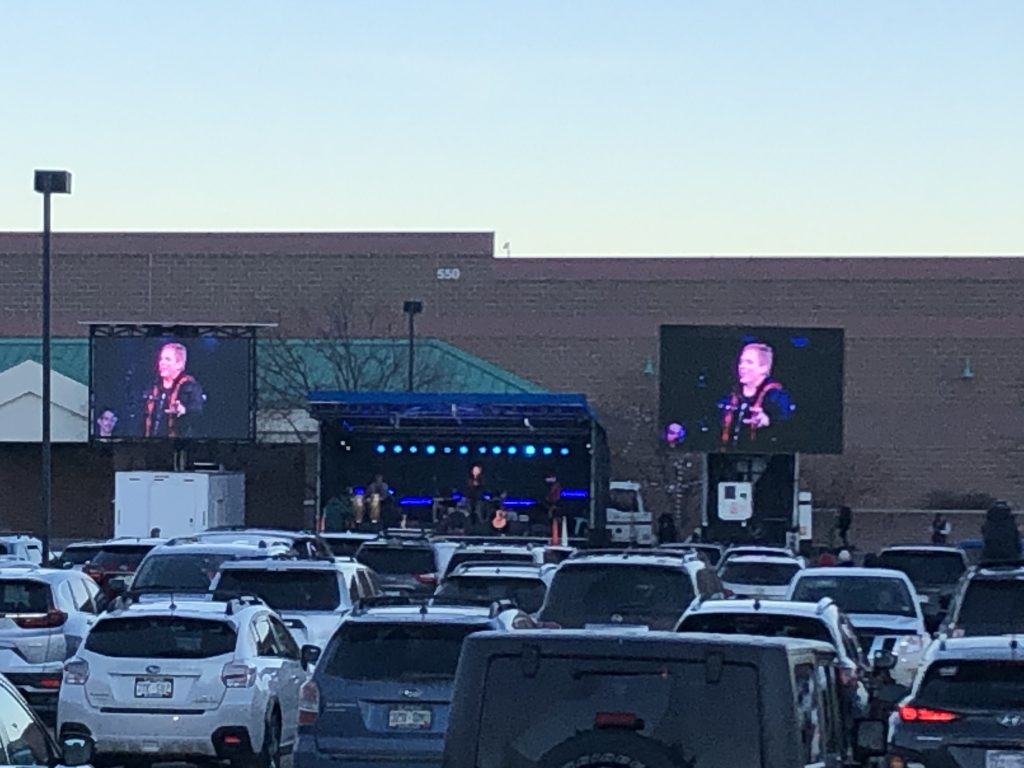 Spreading the Word and experiencing true fellowship with a present and enthusiastic church membership will look different in the future. Extraordinary events, both locally and worldwide, are occurring that make it unsafe to gather in our places of worship. These are the times when church members need the comfort and inspiration that live services provide for them.
Using today's video conferencing technology and LED screen rentals like those available at Mobile View can help you provide a safe and secure worship experience for people during difficult times. Safety being the primary concern, there are other benefits that make video conferencing an effective way to conduct services, including:
Flexibility to Meet from Any Location
Mobile–Meet Anywhere at Any Time
No Commute Time
Extend Your Reach, Increase Your Membership
Accessible for Those Who Can't Travel
Combine an LED Screen with Video Conferencing
In uncertain times, people need a sense of normalcy more than ever, especially from their spiritual leaders. By video conferencing with LED screen rental, you can create a similar environment to what congregations enjoy during weekly services at their place of worship. If you need any help getting set up, please feel free to call the helpful team at Mobile View.
Leave an Impression with Outdoor LED Mobile Display Signage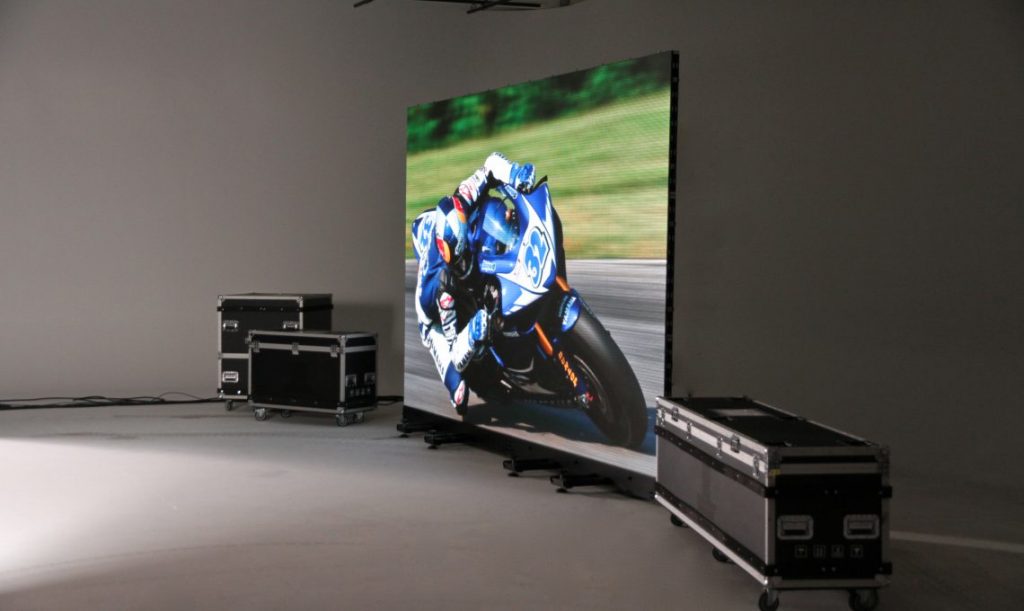 Motion and color catch the eye, they make you look and watch, and that's exactly what you want for your advertising campaign. If your ads have the power to compel people to study them, then they have done their jobs, and your business will benefit as a result. Effective advertising has a positive impact on your company's bottom line, and if you can get that advertising at an affordable rate, then it's even better.
Static advertising is becoming a thing of the past. Ads that can only relay one message have a limited shelf life it expires very quickly. Think of how many billboards you pass in a day that you don't even notice anymore since the message is either outdated or is now an element of the urban landscape. Outdoor LED video screens, on the other hand, circumvent that entirely because they can be easily updated and use animation or movement to grab attention.
Outdoor video displays and digital billboards are popping up everywhere. You've likely noticed many examples, even today, and that shows just how well they work. If you see them, then you're being marketed and advertised to very effectively. Businesses that don't harness the power of these tools are going to be left behind.
Make sure that outdoor LED video screens are a major part of your advertising and promotions campaign so that you can bolster your share of the market.
Retail Advertising with Indoor LED Screens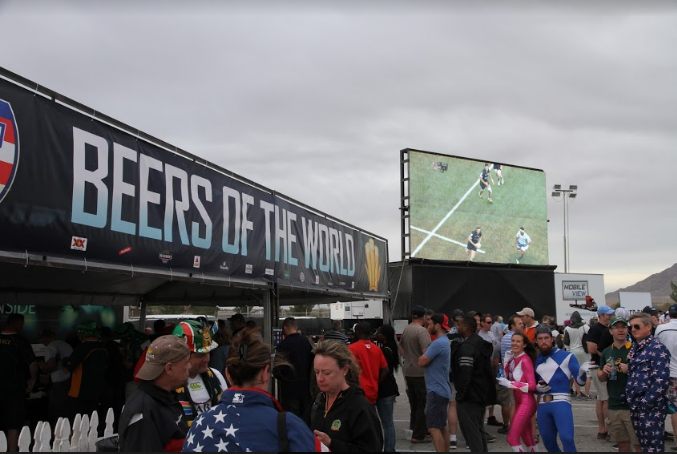 Advertising is one of the most competitive parts of running a business. Any edge that you can find to make your retail operation stand out from the crowd is vital to your operation and overall success. Since today's marketplace is very visual, it's essential to focus on how to make a dramatic impact on potential clients as succinctly as possible.
One great way to get a leg up on the competition is through an indoor LED display like you can find at Mobile View. It's digital signage that gives you the flexibility to share your marketing and advertising messages in the most dynamic way possible. When used appropriately, these displays are eye-catching in their brilliance and attractiveness. They make people look at them because of the clarity of their images and the way they announce themselves and your business.
One of the other main benefits of an indoor LED display is the fact that it's not static. You can program the sign to showcase whatever video messages you wish to share with your customers. You can use them to draw shoppers into your store and then give them the latest information on sales, promotions, and loyalty programs, for instance. They add polish and flair to your advertising campaigns and set them apart. This is especially important for companies that own sports venues and convention centers, where you can provide a point-of-focus for crowds and to further entice them to invest in your business while still enjoying the show.
LED video displays give you the power to entice and attract business. They should be at the top of your checklist of advertising strengths.
Why Advertising Is Moving to Large LED Screen Billboards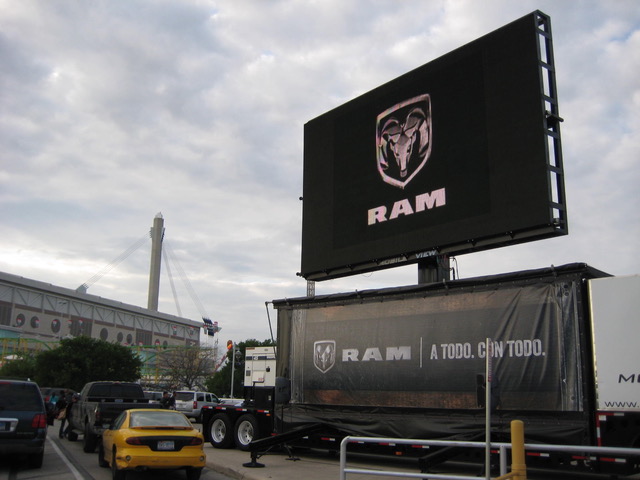 One of the advances in technology that has shaken up the marketing world is the large, LED mobile billboard. With its size, cost-effectiveness, and ease of use, many companies are dumping traditional marketing techniques for digital screens. Discover the benefits of making the switch to digital billboards.
One of the big advantages of an LED billboard is its ability to incorporate creative messages and formats.  Digital screens allow you to craft content that incorporates multiple media formats, including images, sound, video, and more. On top of that, you can cycle through several advertisements on a single screen, allowing you to show more with less space.
Another advantage is durability. Harsh weather conditions and exposure to the sun can destroy and fade traditional billboards–and the messages they contain. Digital billboards are specially engineered to withstand the elements better than their traditional counterparts. This will lengthen your materials' effective exposure time and your potential return on investment.
Even with today's tech-conscious world, digital billboards are hard to ignore. Ads on a large LED mobile billboard can't be erased by a popup blocker or closed like a computer window. Due to their size and brightness, digital billboards are difficult to overlook.
With the right billboard and content generation tactics, you are on your way to taking advantage of LED technology. Contact your LED sign company to learn more about advertising with digital signs.
Marketing Your Business with a Large LED Display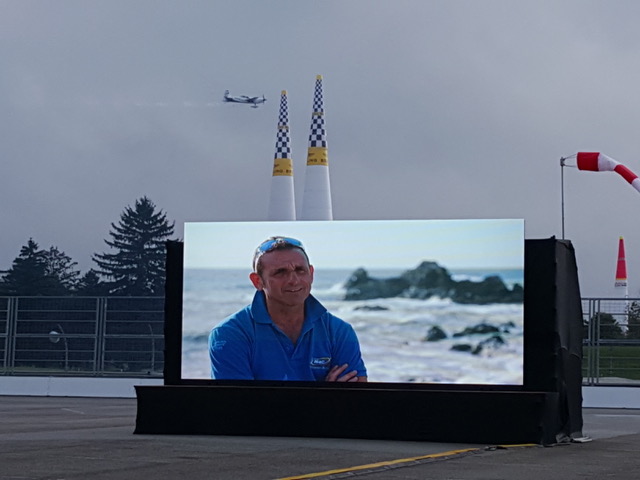 When it's time to reveal your next revolutionary product or service, exposure pays. A large LED display can boost your marketing and advertising efforts. There are many advantages to renting out LED displays. Here are a few key advantages to investing in this technology.
First, LED displays grab attention. Thanks to advantages in technology, LEDs can present brilliant videos and images in eye-popping detail, whether during the day or at night. These displays are also dynamic, which means audiences and passersby are more likely to engage with them. These displays offer flexibility and customization that a still billboard cannot match.
Another advantage of utilizing a large LED display is its accessibility. This technology can be accessed remotely through a wireless Internet connection. It is possible to control digital billboards and what they display with the click of a mouse. You can update your messaging and content at any time, from virtually anywhere.
Finally, large LED billboards are becoming cheaper to maintain thanks to their high durability. Digital displays are highly resistant to damage, compared to traditional billboards that can be torn or destroyed. New technology makes it more economical to utilize a digital billboard, which means you can take your budget further.
There are many advantages to using a large LED display, and new technology is making it easy to turn ideas into reality. Contact a local sign company to learn more about your options with digital billboards.
Innovative Uses for Large LED Screens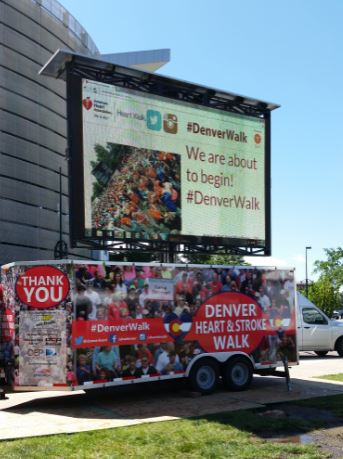 When you host an event, communicating information effectively and intuitively is one of the foremost challenges to keep in mind. One easy, innovative solution is to employ large LED screens to help attendees get the insights they need. Whether it's a conference or a convention, the right displays can accomplish a wide range of tasks, such as:
Aiding Presenters – With high-definition visuals, any subject can be engaging and friendly for assembled audiences. Modern screens push far past the days of the humble projector and provide an invaluable resource when conveying complex ideas. 
Managing Crowds – Popular events tend to be bewildering for newcomers to the venue. Large displays are a great way to make sure that information about events, directions, and other important matters is accessible at a glance. They also offer a convenient entertainment option to keep crowds engaged while waiting in line or milling around during intermissions.
Supporting Advertisers – Displaying ads is a great way to attract sponsors or give featured guests greater visibility. This also extends to sharing social media posts and other live information during the course of the event, keeping up the hype for the occasion in a way that feels both entertaining and organic.
LED Video Display Walls Provide the Ultimate Concert Experience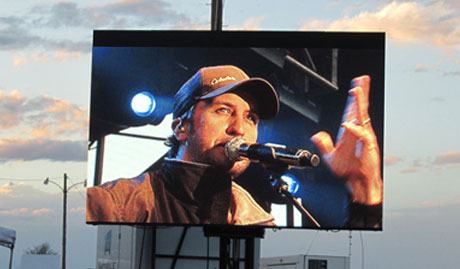 Concerts are all about the moment, and the best venues offer an engaging environment where artists and fans can make the most of their experience. One of the best investments to make when you want to amp up your facilities is a modular LED display. Available for rent and comprised of several panels, these screens offer a wide range of advantages, including:
Visibility – Crisp HD displays make sure every detail of a performance is clear on the big screen, giving entertainers more presence and creating a larger-than-life feeling that makes each concert memorable. This is also a huge benefit for sign language interpreters and the dedicated fans that depend on them.
Convenience – Since top-notch screens are available for rent, you can get great quality at any event without having to radically alter your facilities or overspend on a permanent installation.
How a Large LED Display Can Change Your Billboard Game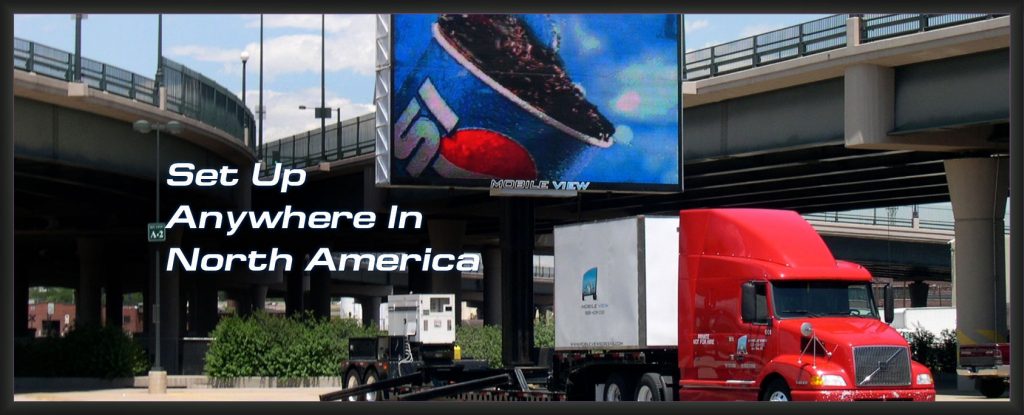 In today's increasingly impressionable society, getting as many engagements as possible has never been more critical. Companies turn to billboards as a reliable platform for advertising. However, even the technology behind this marketing staple is changing. The large LED display is overtaking the traditional, printed billboard. Today, we will discuss why businesses are pivoting to LED technology.
Printed billboards are a mainstay on roadsides and walkways. While billboard companies may offer space for weeks and months on end, there are limitations to this aging method. LED technology has proven to be a more attractive option, as it has many key advantages, such as:
Engagement: LED screens display bright and vibrant images–and the equipment is built to last. Even in cloudy weather or in the rain, drivers and passersby will notice a bright, LED-powered billboard. They are hard to ignore and will attract attention.
Customizability: By embracing the digital revolution, large LED displays are highly customizable and very adaptive. Businesses can change their marketing materials on an LED quickly. You won't have to hire a team to re-paper an outdated or incorrect ad. LED technology allows for changes and additions as you need them.
Dynamic Presentations: Owing to their customizability, LED-powered marketing materials open different avenues for creativity and engagement. For instance, many different ads can be rotated on a single display. If you buy multiple slots, you can keep prospective customers engaged with your branding–especially during rush hour or a traffic jam.
The possibilities of large LED displays as a marketing tool are virtually limitless. Get in touch with an LED equipment company to learn how to take advantage of digital marketing opportunities.
The Advantages of Large LED Screens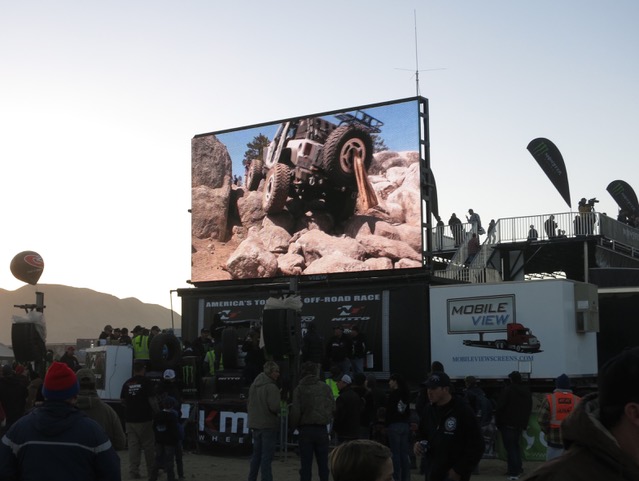 Videos and image-based content have risen in popularity over the years, and businesses have been using them for marketing purposes in increasing numbers. A significant contributing factor to their proliferation resides in the technology that has enabled it. Today, we will discuss large LED screens and how they can steer your marketing strategies in bold, new directions.
Large LED screens have been used in public spaces, venues, and other high-engagement spaces. They bring more benefits to older iterations of display technology, thanks to advances in research, development, and manufacturing. Here are some of the key advantages:
Minimize Distraction: Video wall displays are a popular format for billboard-style materials and video for large venues like stadiums. LED screens are available in a variety of sizes–and all without visual interference like bezels. This allows for clear pictures and unimpeded viewing spaces.
Wider Viewing Angles: The technology behind LED screens is compact, slim, and lightweight. As a result, large LED screens project bright and crisp images with faithful color reproductions. Content on these screens can be seen clearly from different angles, which maximizes engagement.
Longevity and Efficiency: LED panels use less power than their older, LCD counterparts. On top of that, the lifetime of an LED panel is significant: 100,000 hours. This directly translates to lower operation costs and maintenance requirements.
When you are ready to upgrade to LED panels for your marketing efforts, get in touch with a trusted LED equipment company.
How to Choose the Right Indoor LED Display for Your Event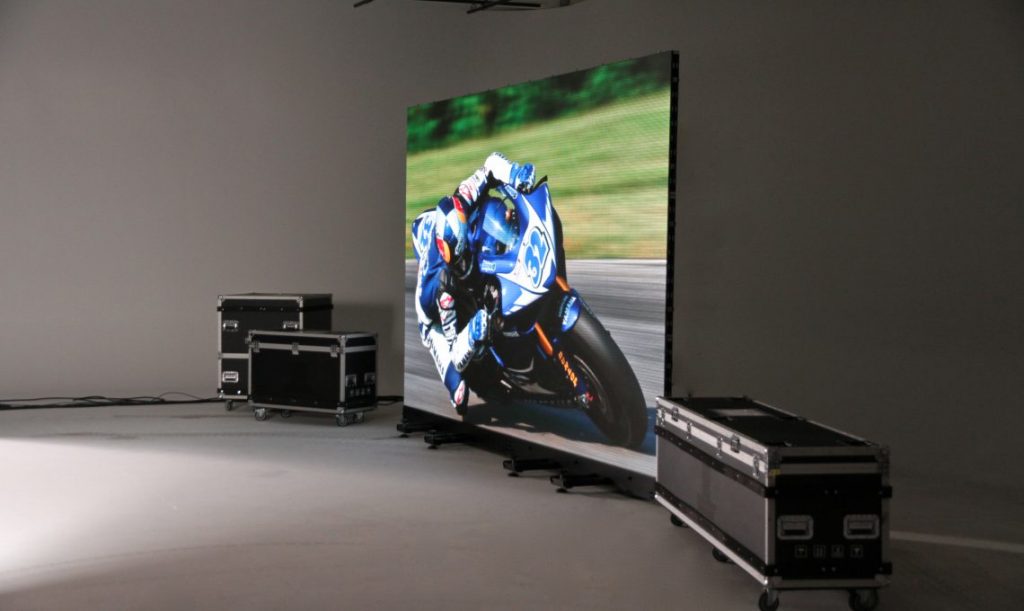 Wow the guests at your next upcoming indoor event by carefully considering which LED screen to use. Whether you are playing a movie, broadcasting live sporting results, or presenting a PowerPoint Presentation, it's important to rent an indoor LED display that fulfills all of your needs. But what factors should you consider when picking out a display? Read on to find out.
Screen Size: Is it important that every guest has a clear view? Then you need to be sure to choose an LED display that's big enough to reach everyone. Depending on the seating arrangements, you may need to rent more than one screen. However, if your screen will be serving a supplemental function rather than a crucial one, you can probably use a single, smaller screen.
Resolution: How do you know what resolution is the best for the setting? When the venue does not allow a larger LED display, a major consideration on which screen to use should involve the resolution. A good rule of thumb is; the smaller the screen, the tighter the pitch or resolution.
Brightness: What will the lighting be like at your event? There's a big difference between looking at an LED screen in a dark room versus a well-lit one. To ensure every attendee has a front-row seat experience, consult with a specialist on your screen's brightness needs.
Mobility: Some LED displays are easier to move around and set up than others. Simplify your preparations by choosing a mobile screen. Likewise, if you anticipate moving the display around during your event, it's best to choose one that can be shifted easily with minimal disruptions.
The Benefits of a Mobile LED Billboard
It can be difficult to attract attention in today's saturated marketplace. Fortunately, modern advertising solutions have risen to the challenge, like the LED mobile billboard.
LED screens offer a number of advantages for businesses. First of all, they draw eyes wherever they are placed. Thanks to their bright, vivid colors, LED displays can reach potential consumers from practically anywhere. Likewise, these screens offer unique content opportunities. You can use them to display a simple ad, shuffle through multiple messages, or even play videos – including live feeds. No matter what you want to display, an LED display does a stellar job.
Businesses also like that LED billboards are operational from anywhere, offering complete control of the message. With just a Wi-Fi connection, you can update your display to promote a new product, advertise something timely, or completely shift focus. Best of all, these updates are immediate; there's no need to wait for need materials to be printed and delivered or anything along those lines.
Finally, LED billboards are low maintenance and highly durable. They're built to shine bright in all types of conditions, even rain. Aside from setting the screen up and taking it down, you won't have to think much at all about maintenance – perfect for a busy business owner.
Reasons to Rent an Outdoor Video Screen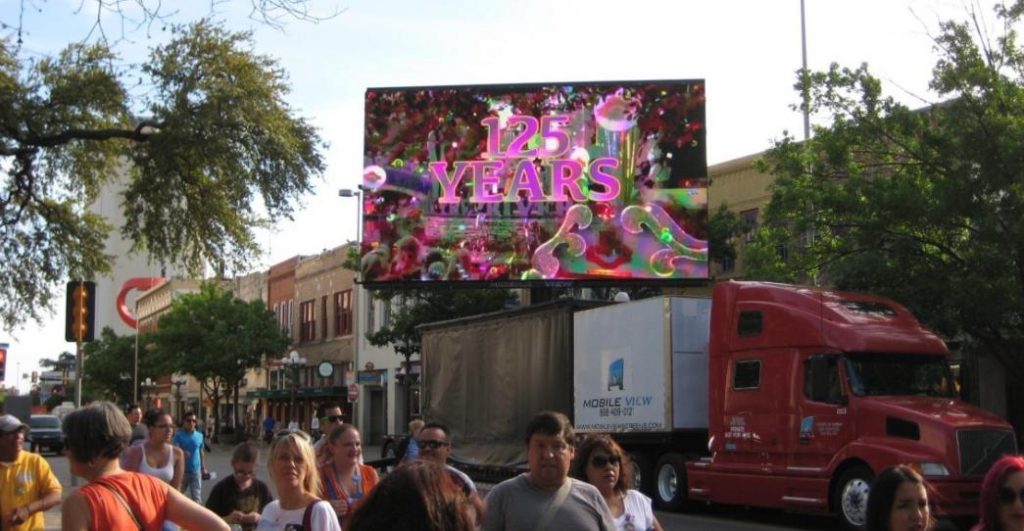 Enhance the excitement of your upcoming event with outdoor video screens. After all, people love to see others, as well as themselves, on the big screen. This is an opportunity for your event to be bigger and better than ever.
We have several compelling reasons to advise you to go big. These include:
Improved Visibility: The quality of LED screens is amazing. It far surpasses other screens indoors or out. You get a great view from wherever you are. Also, you do not have to be right on top of the screen to see the show. The resolution is that good.
Engage the Crowd: Using a camera feed to show crowd shots is a great way to get people involved. They might show off their T-shirts, wave their signs, or display their costumes. This gives small groups in the crowd a chance to demonstrate their spirit and ratchets up the levels of enthusiasm and excitement.
Gain Ad Revenue: You can make money at your event by advertising on the big screen. There is a huge audience for an advertiser to market targeted products, which is more beneficial to the crowd and more successful for the advertiser.
Make your event more fun and more successful by making use of outdoor video rental. Our company rents mobile video screens for outdoor and indoor events.
The Different Types of Mobile Video Screens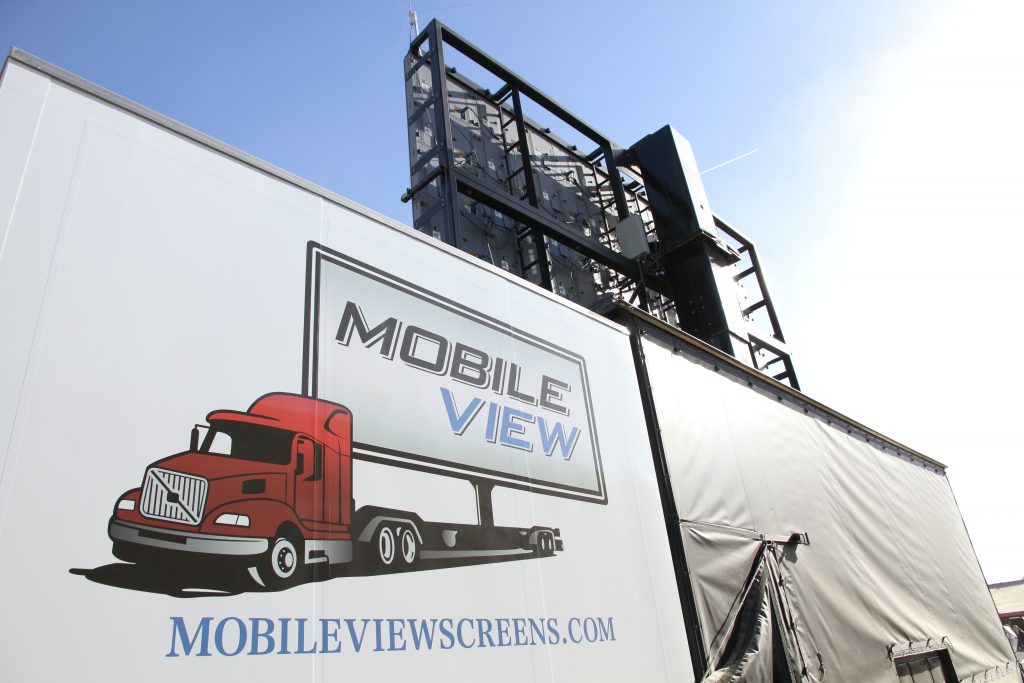 Large video screens are becoming more and more a staple of any big event. These screens deliver high-resolution pictures on a grand scale. Also, they add excitement as people easily and clearly can see what is going on. In fact, in addition to the event itself, shots of the crowd make the event more entertaining for all attending.
There is a variety of such huge video screens available, depending on your purpose:
An LED mobile billboard is essentially a screen on wheels. These screens are great for rentals as they can be driven to a variety of venues.
Installed LED video walls provide another option for great viewing on the big screen. Outdoors or indoors, these walls are built to be permanent structures for use as signage or displays.
Modular LED walls are panels of screens put together to create one large viewing screen. Because of their temporary nature, such walls are used mostly for rentals.
When planning a big event or when you need a large video displays, be sure to include room in your budget for one of these screens. Being a consultant first, allows us to help you gauge the right size and type of screen for your event. Give us a call today for your consultation.
LARGE LED MOBILE RENTAL SCREENS
A SPONSORS BEST FRIEND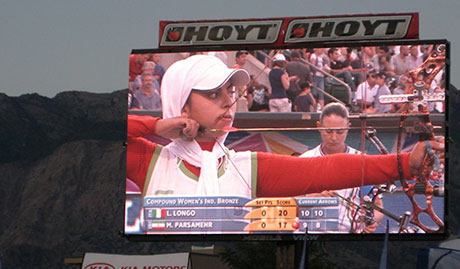 Tag: large led mobile rental screens | Large LED screens | Large LED video displays | modular rental screens
With the holiday season on our doorstep and celebrations like Christmas, sports events and wedding planning in full swing, our large LED mobile rental screen products are the best value for money to bring the event together and create focal points for maximum viewing. Our large LED rental video screens and our various sized modular rental screens are of the highest quality and offer total versatility. Our large LED screens are mobile and can be moved on a minutes notice to various places during the event. Our modular rental screens can be erected on stage for weddings or concerts, conferences or indoor sporting and ice skating events. These modular video screens can be used in many patterns creating an artistic light show with the videos to be shown. The quality of the LED screens is top notch and offers vivid colors and clarity, creating a focal, central point for viewers and filling and completing the event.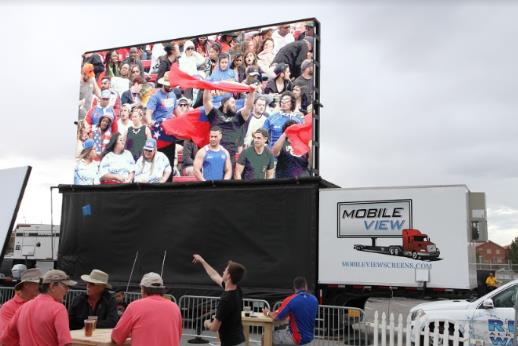 Tag: Large outdoor LED displays | Led screens for outdoor events |Mobile LED display screen rental | outdoor LED rental screens | outdoor and indoor LED rental screens
If there's an opportunity to use the screens for sponsorship during the event, the return on investment will be rewarding. These screens become the focal point and attract viewers attention fully, offering sponsors a great opportunity to get their latest products in front of many more viewers for a reasonable investment. The LED video screens offer smaller companies the opportunity to advertise at choice events without having to sign up for monthly advertising contracts on TV. There is also the enormous benefit of targeting your products to the right demographic.
Whether you're a local Xmas tree lighting, non-profit event, or small-town festival, these LED screens and LED modular video walls are the perfect solution for today's fast paced viewing and mobility of people. Guests, sponsors, and event organizers all love having the screen at events and you will not regret factoring them into your events budget.
We at Mobile View Screens are always available to answer any questions and to help you find the perfect fit for your event, big or small.
If you are looking to hire a large LED screen or modular LED screens for your next indoor or outdoor event, we have limitless screen options for your consideration.
Call us directly at (303) 770-3416 to address your specific advertising needs.
LARGE LED MOBILE RENTAL SCREENS- An absolute marketing must!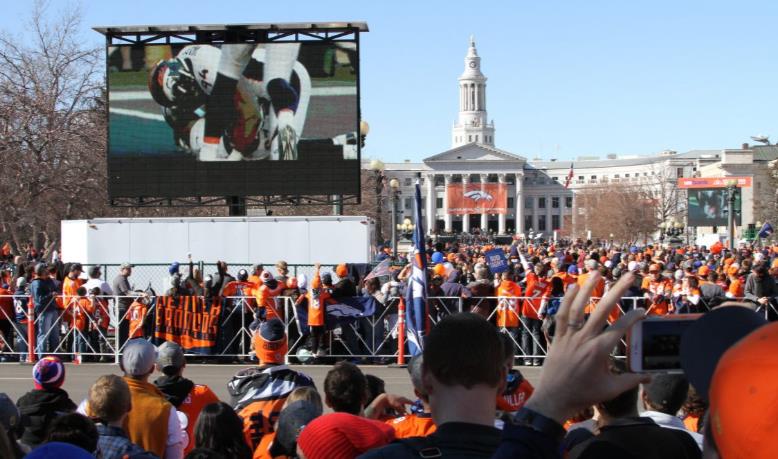 Tags: Mobile LED screens | Large outdoor LED display screens | Large LED screens for rent | Large LED video screens | indoor and outdoor LED display screens
Countries around the globe are now fully invested in using large mobile LED screens for almost an events for sales, branding, advertising and conferences. These large video screen are very durable in all weather, have incredible visual clarity and color and project the message loud and clear to a vast number of people at once.
We at Mobile View Screens have worked in the most unusual circumstances and places. Our large LED screens are so versatile and can be moved to any location at a moments notice, reaching thousands of people with the marketing message.
We cover events such as weddings, product launches, sports events, political events, movie releases and corporate training events.
We also provide a huge selection of Modular Video Screens which are used to great advantage by music events and large stage events for their artistic design possibilities.
Our medium size LED video screens are very useful for Colleges, Schools and Seminars to help with teaching and training. These screens are great for management events and training.
Give us a call and let us help you decide which LED screens are suitable for your upcoming event. Our staff are highly trained technicians and will help you to maximize your marketing of any event.
If you are looking to hire a large LED screen or modular LED screens for your next indoor or outdoor event, we have limitless screen options for your consideration.
Call us at 303-770-3416 to reserve your big screen for your next event and see the Mobile View difference.
RENTAL TWITTER WALLS A SOCIAL MEDIA NECESSITY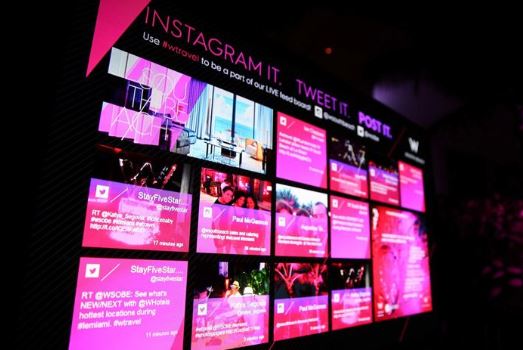 TAG: Large indoor LED display screens | Large LED Video Screen rentals | Mobile visual displays | Outdoor LED signs and screens |Indoor and outdoor screens | Large LED screens for rent | Large outdoor LED display screens

No sporting event, outdoor or indoor, is complete without the exciting, live stream of social media and twitter walls on Large LED Rental Screens. Whether the event is outdoors or indoors, make no mistake, our High end LED display systems are the most cost effective mobile rental screens, offering you the maximum flexibility and pitch perfect color come rain or shine, snow or wind.
These social media LED rental screens allow for up to the minute hashtag posts encouraging attendees to interact in real time, sponsors love them!
These big LED screens are an effective way to interact with consumers making them a very powerful marketing tool for any event. Attendees will be so excited to see themselves on the big screens with their friends and coworkers – the more people posting the better chance of the event trending.
These socially interactive opportunities are the best marketing tools to get your brand name trending at live events. Sporting events are especially exciting and popular for these large jumbotrons and LED rental video screens.
Our Mobile LED screens produce some of the sharpest pictures in the industry. All mobile screens are excellent for branding, scoring and timing. However, we typically utilize these giant outdoor screens for video images, live broadcast and replay highlights. Complete with on-board production suites, our LED mobile screens create front row seating, every time.
We can deliver any size LED screen, anywhere in North America on a moments notice through our vast network of affiliate companies.
Call us at 303-770-3416 to reserve your big screen for your next event and see the Mobile View difference.
WHAT TYPES OF EVENTS USE LARGE OUTDOOR LED DISPLAY SCREENS?
Mobile View is there to bring you to the front row of any event you can imagine. Vivid color, and the latest LED screen technology brings the concert, sporting event, festival, corporate gathering or charitable event right before your eyes. Our high-resolution LED screens bring amazing video clarity and vibrancy to any event and give brands the opportunity to connect with their audiences using engaging and captivating marketing messages.

Tag: Large LED mobile rental screens | Large LED screens | Large LED video displays
Indoors or outdoors, come rain or shine, night or day, here is a list of events where our video screen displays will perform and deliver.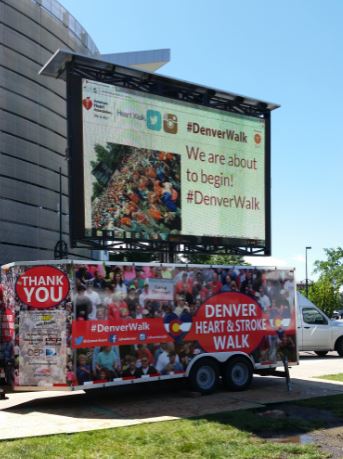 Tag: Large outdoor LED displays | Led screens for outdoor events |Mobile LED display screen rental
Music Concerts
Sports Events
Festivals
Corporate Events
Trade Shows
Gatherings
Golf Events
Bike Races
Triathlons
Rallies
Charitable Events
Church Services
Graduations
Political Rallies
Outdoor Cinemas
Planning or hosting an outdoor event? Our tech team professionals will help you create an interactive experience for your event using our cutting-edge technology. Mobile View Screens provide indoor and outdoor LED screens for hire, delivered on a fully integrated mobile video screens event screen truck with mixing capabilities. We are committed to providing tailored solutions that deliver results and enhance spectator experience for any event.
Whatever your need we at Mobileview Screens are there to work with you on your marketing design so don't hesitate to contact us at 303-770 3416 and we'll be there to help make your vision a reality.
DENVER FALL FESTIVALS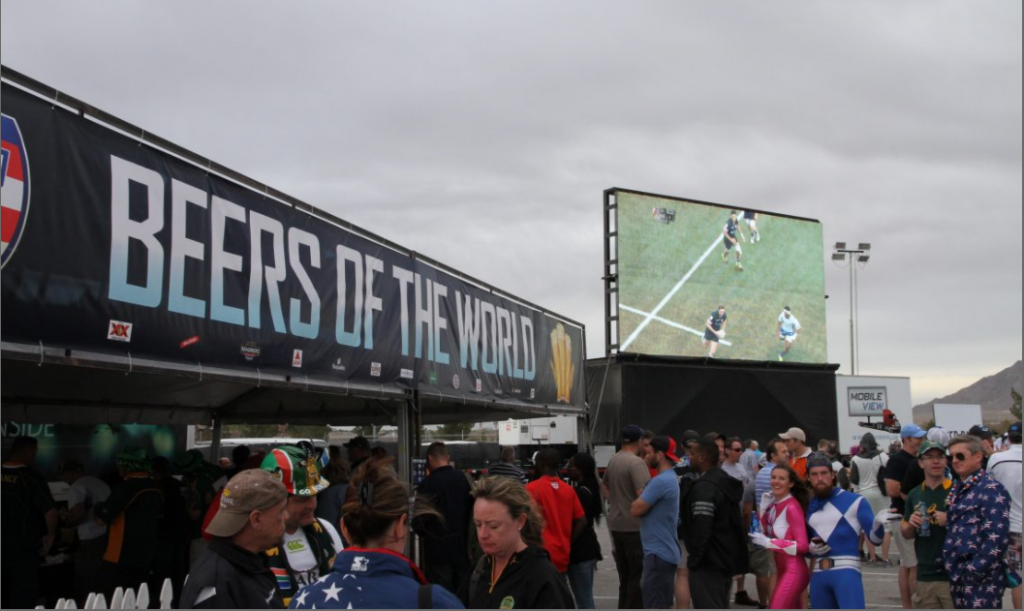 GREAT AMERICAN BEER FESTIVAL®
WHEN: Sept. 20–22, 2018  
WHERE: Colorado Convention Center
The Great American Beer Festival® is the nation's premier beer festival and competition, with brewers from hundreds of breweries across the country pouring samples of thousands of beers. Beer lovers: this event is for you.
HANDMADE IN COLORADO EXPO
WHEN: Sept. 21–23, 2018
WHERE:16th Street Mall & Arapahoe St, Denver, Denver, CO
Love the local? Then immerse yourself in all things Colorado at the Handmade in Colorado Expo, which showcases arts, crafts, food and music all produced in Colorado local artisans.
OKTOBERFEST DENVER
WHEN: Sept. 21–29, 2018
WHERE: Ballpark Neighborhood
Denver's Oktoberfest commemorates German heritage over two weekends each fall. Enjoy German attractions, including music from national touring groups, performances by international dancers, children's activities, heritage booths selling German goods, an accordion concert, the annual Long Dog Derby and, of course, German bier and cuisine.
WESTWORD FEAST
WHEN: Sept. 30, 2018
WHERE: McNichols Civic Center Building
A celebration of Denver dining, one bite at a time, Feast, a culinary bash from Westword, Denver's alt-weekly newspaper, provides guests with unlimited food samples from dozens of Denver restaurants, plus a slew of libations from stations pouring beer, tequila, whiskey and vodka. Live entertainment is part of the lineup, too.
OCTOBER
PUMPKIN HARVEST FESTIVAL
WHEN: Oct. 6–7, 2018 
WHERE: Four Mile Historic Park
Find the perfect pumpkin, go for a ride in a horse-drawn wagon and down a pint in the beer garden at Four Mile Historic Park Pumpkin Harvest Festival. You can also craft your own scarecrow and listen and dance to old-time music!
HARVEST WEEK
WHEN: Oct. 7–11, 2018 
WHERE: The GrowHaus
Each night during Harvest Week, six Colorado chefs will come together to create a one-of-a-kind pop-up dinner at The GrowHaus.
PUMPKIN FESTIVAL
WHEN: Oct. 12–14, 2018 
WHERE: 8500 W Deer Creek Canyon Road, Littleton, CO 80128
Celebrate fall at Denver Botanic Gardens at Chatfield Farms. Explore a 10-acre pumpkin patch and family and children's activities.
BLOODY MARY FESTIVAL
WHEN: Oct. 13, 2018
WHERE: EXDO Event Center
Forego the snooze button and instead make a beeline to the boozy Bloody Mary Festival, a Saturday day brunch blowout featuring a three-hour marathon of unlimited bloody Mary samplings (the garnishes alone are worth the price of admission) from numerous restaurants, bars and local liquor companies around the city. A steady stream of hip shakin' live music and sustenance from multiple food trucks keeps you on your feet.
MAKER FAIRE DENVER
WHEN: Oct. 13–14, 2018 
WHERE: National Western Complex
Billed as "the Greatest Show (& Tell) on Earth," Maker Faire is a venue for "makers" to showcase their art, experiments, hobbies, crafts and projects through presentations, hands-on activities and competitions. This family-friendly event — the first of its kind in the Rockies — will feature everything from wearable tech, to a musical petting zoo, to the largest BattleBots competition in the Western U.S. We'd say more, but this it truly an event that's best experienced first-hand!
DENVER FILM FESTIVAL
WHEN: Oct. 31–Nov. 11, 2018 
WHERE: Various venues, including the Sie FilmCenter and UA Pavilions
Since 1978, the Denver Film Society has worked to promote the medium as both an art form and a civic forum, developing a program that includes year-round screenings, community outreach projects and renowned special events. The Denver Film Festival brings over 200 guest filmmakers and sells over 55,000 tickets to more than 250 films, from blockbusters and documentaries to shorts and independent films.
NOVEMBER
DENVER INTERNATIONAL WINE FESTIVAL
WHEN: Nov. 1–3, 2018
WHERE: Denver Marriott Westminster
Recognized as one of the "Best Wine Festivals Across America" by Food & Wine magazine, the Denver International Wine Festival showcases the largest selection of international and domestic wines at any Grand Tasting in the Rocky Mountain region, plus the popular wine and food-pairing event, Pairsine, which features Colorado's top chefs creating gourmet food pairings for award-winning wines.
DENVER ARTS WEEK
WHEN: Nov. 2–10, 2018 
WHERE: Various galleries, museums and theaters throughout Denver
The Mile High City celebrates its vibrant creative community every year with Denver Arts Week. In 2017, this unique citywide happening returns with a lineup of innovative, inspiring and fun activities and events. Denver Arts Week takes place at seven neighborhood art districts, several museums and dozens of art galleries, and it includes the wildly popular Night At The Museums, where several of the city's greatest museums are free.
BEAUJOLAIS & BEYOND FESTIVAL
WHEN: Nov. 19–21, 2018
WHERE: 2027 Old West Colfax Avenue, Denver, CO 80204
Watch as 20 Colorado chefs face off by creating French-inspired dishes paired with this year's Beaujolais Nouveau wine. The event will also feature a live performance by Imagination Arts Circus and a premier selection of wines, spirits and food from local restaurants.
Tags: Large outdoor LED display screens | Led screens for outdoor events | Mobile LED screens
BENEFITS OF LARGE OUTDOOR LED DISPLAY SCREENS FOR EVENTS
Large outdoor LED display screens are becoming more popular at events due to their fun engaging content, affordability, and increased capabilities. Crowds at music concerts, marathons, fun runs and sports events expect to see and hear all the action. Images on large LED screens are easy to see in all weather conditions, including full sunlight, allowing people to enjoy a front-row seat, the atmosphere and the action at the same time.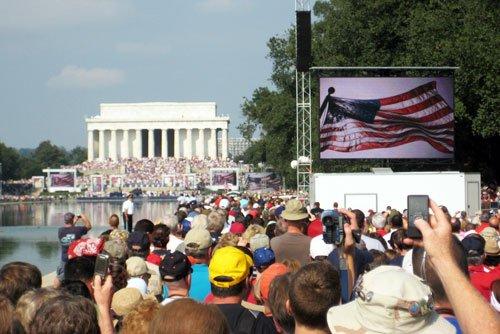 Tags: Large LED screens | Large outdoor video displays | Led screens for outdoor events.
Here are the major reasons event planners are renting LED screens.
● Visibility – Beautiful Images In Rain Or Shine.
Mobile View's mobile LED screens are glare-resistant so the viewer can see the action on the screen clearly in rain or in bright sunlight. LED screens are ideal for many types of outdoor events and can be scaled to any size giving every viewer a front-row experience even from hundreds of feet away from the action.
● Easy To Deliver.
Mobile LED screens are delivered and kept on trailers making them easy to transport and position. There is no set up at events, saving time and money in labor costs.
● Durable and Versatile.
Outdoor screens are durable and designed to withstand the bumps during transit. Designed for outdoors, they are also constructed to withstand reasonable impact during screen-time. Their versatility and strength makes them the ideal medium for sporting events, music concerts and public gatherings. Being mobile, the screens are flexible and, as an example, can be placed at the starting line of a fun run and moved to the finish line, after a few hours.
● Event Enhancement.
What better way to entertain and inform the audience than with captivating images on a giant screen? The large and bright images draw attention and have a great impact on the viewer creating an experience not easily available elsewhere. Feed updates from social media platforms such as Twitter generate huge engagement and PR from guests who can live tweet about the event.
● Income Potential.
Large mobile screens at events create an immersive consumer experience through live video feeds, television commercials, branded videos and corporate messaging. Split screen capability allows engaging LED ads to run simultaneously with the main content, reaching a huge audience and making them incredibly attractive for advertisers and sponsors alike. The cost for hiring a mobile LED screen can be easily exceeded by potential advertising revenue and the value of customer engagement.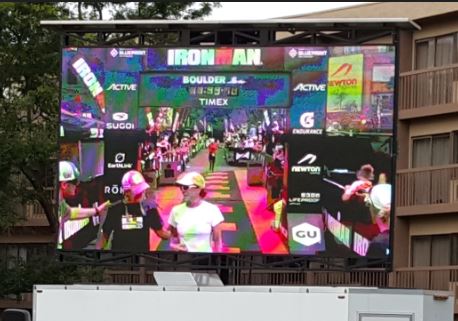 Tags: Mobile LED screens | Large outdoor LED display screens | Large LED screens for rent
The use of mobile LED display screens will also help to double up on your message and product details without having to hire too many people to staff a busy booth. The color and sharpness of the images will attract people to your booth as well as give out information prompting them to ask further questions and get their attention.
If you are looking to hire a large LED screen for your next indoor or outdoor event, we have limitless modular screen options for your consideration. Call us directly at (303) 770-3416 to address your specific advertising needs.
LARGE INDOOR LED DISPLAY SCREENS A MUST FOR YOUR BUSINESS CONVENTION
CAPTIVATE A FULL AUDIENCE FOR YOUR NEXT TRADE SHOW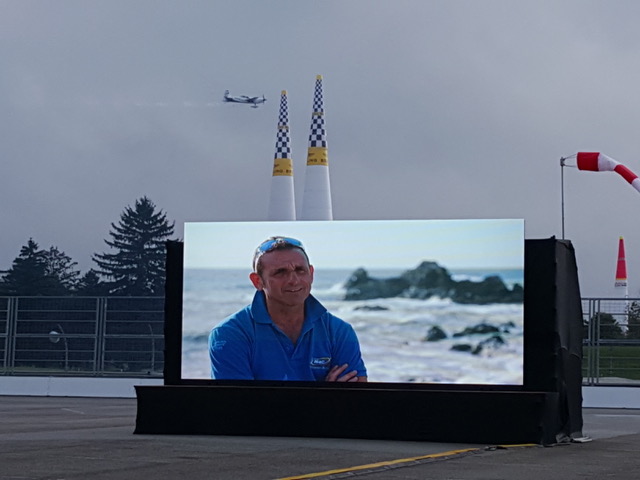 Tag: large led mobile rental screens | Large LED screens | Large LED video displays
It is a proven fact that the more you put into your trade show booth the more it will reward you. With your competitors all around you, there will be just a small window of opportunity to make an impact on your customers. Incorporating large LED screens and large LED video displays is one of the most affordable and eye catching ideas to incorporate into your design. These large LED mobile rental screens or modular rental display screens are a necessity in today's fast paced advertising market where you have to get your message out very concisely and quickly before people move on.
Large outdoor LED displays | Led screens for outdoor events |Mobile LED display screen rental
The use of mobile LED display screens will also help to double up on your message and product details without having to hire too many people to staff a busy booth. The color and sharpness of the images will attract people to your booth as well as give out information prompting them to ask further questions and get their attention.
Our team of design experts will consult with you to establish your needs and required time lines for the conference. Our technical team are experts in dealing with any challenges you may have and can work one on one with you to overcome these and put on a flawless digital experience event for you and your company.
Another great feature is the repetitive possibilities of showing your message throughout the day. Billboards and posters lack the movement, dynamics clear color and advantage of multiply messages being shown on one screen throughout the day. Using Modular LED Screens and LED display screens for these large public events is a must for your company.
Whatever your need we at Mobileview Screens are there to work with you on your marketing design so don't hesitate to
contact us at 303-770 3416
and we'll be there to help make your vision a reality.
UP THE EXCITEMENT LEVEL WITH MOBILE LED RENTAL SCREENS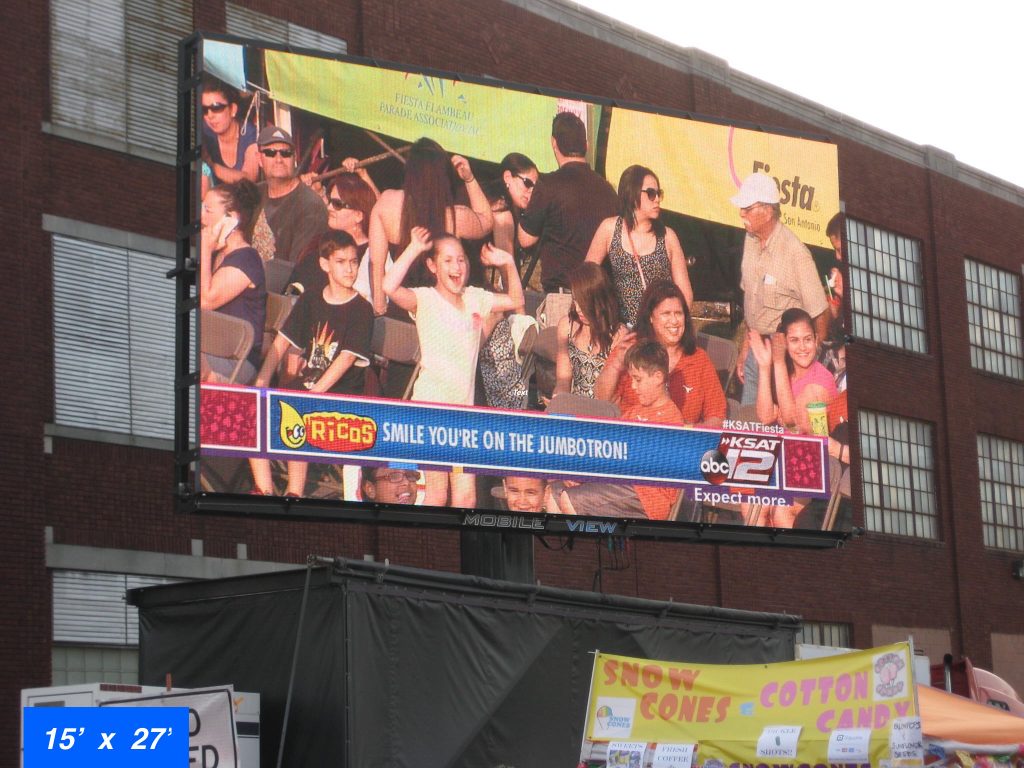 TAG : Indoor and outdoor screens | Large indoor LED display screens | Large LED screens |
Live concerts, music events, church gatherings, conferences and trade shows can no longer be without freeform Modular LED screens to give them that extra excitement and lift. Large scale video has now become a total necessity for set designers and stage managers to bring the whole event alive. The costs are very reasonable and the color is sharp and clear. These modular rental screens are a total must for large indoor and outdoor events. They are incredibly durable and handle any brightness and weather. For large sporting events you cannot be without our Mobile LED rental screens which are mounted onto our state of the art trucks. They can be moved throughout your event to different locations without any fuss to give your spectators the thrill of up close viewing. Our highly skilled technicians are available to help you choose the right screens for your event and to see it through to completion. They will work hand in hand with each individual client to develop creative, cost=effective video applications that will add oomph and excitement to any major event.
No live event is complete without these exciting, colorful and sharp Large outdoor LED display screens.
Mobile View Screens supply Large outdoor video displays and LED video panels which can be combined quickly in the field to form a large-screen video display of any shape or size. Built using large, hand-stackable sections makes for speedy setup and teardown while also minimizing cabling and display weight. The result is a tough, road-ready mobile display featuring industry-leading image quality perfect for any concert tour, conference or corporate functions, award presentations and graduations or auto shows, festivals or sport events.
Tickets to any live events are expensive and the public now demands to have more than the average entertainment and presentations. These Large outdoor LED display screens are a way of giving back to the public and making their viewing experience exciting and fulfilling. Our Modular indoor rental screens will give your audience the opportunity to have full, surround color with clear viewing right up front without them having to sit in the first few rows. Nowadays, audiences won't even go to events that don't offer large LED Screens to maximize the viewing experience.
Contact us today and we will help you put together a stunning event that will stay with viewers long after the event is over.
TAG: Large indoor LED display screens | Large LED screens for rent | Large LED Video Screen rentals
Contact us : 303-770 3416
Large Mobile LED Rental Screens – The Ultimate in Visibility and Versatility Offering Indoor and Outdoor Screens for rent anywhere in the US or Canada
Modular Flat Panel displays and Large Mobile LED Rental Screens have become a staple of outdoor events and tradeshow marketing. Much more than just static signage, video screens allow for a host of additional display options. Allowing businesses to feature additional products that are too large to assemble at events, these rental screens free up the marketing and bring the focus front and center. Marketers can now create dynamic booth backdrops with the emergence of these video walls. These modular screens offer total flexibility for companies to have a new presentation platform. Additionally, they serve as ideal information platforms for customers, drawing attention to the details of the products and providing added sales opportunities. The Modular Rental Screens can be used for stunning backdrop designs for live music concerts, wedding photo backdrops, conferences and any indoor events where colorful backdrops are required. Their clarity and vivid colors will maximise the visuals and fill any venue
Leave the Maintenance And Setup to us
By working with a professional rental provider like MOBILEVIEW SCREENS, you not only have access to our latest technology, but you'll also have our fully trained and knowledgeable technicians at your disposal. While you're focused on selling your products and services, let us worry about ensuring the display you have chosen is properly set up and calibrated. We take all the worry out of the transport, set up, moving, storage and general logistics of your mobile display screens.
Whatever your need we at Mobileview Screens are there to work with you on your marketing design so don't hesitate to contact us at
303-770 3416
and we'll be there to help make your vision a reality.
TAG: Indoor and outdoor screens | Large indoor LED display screens |Large LED screens
TAG: Large LED video displays | Large outdoor LED display screens | Mobile LED screens |
FRONT ROW SEATS EVERY TIME WITH LARGE LED  JUMBOTRON SCREENS
SUMMER FESTIVALS AROUND DENVER
Spring fever came and went so quickly and we're now slap bang into full-on summer weather. What a wonderful time to get out with the family and friends and celebrate. From music festivals to food festivals to rodeos, our large led rental screens will bring the show center and up front so that you don't always have to be in the front row seats to get a good view of the festivities. No live music event or celebration of any kind should be without one of our large LED mobile rental screens. Our mobile screens are top notch quality and our trucks can be set up and moved at the drop of a hat to various spots for the event. Here are a few suggestions to get out and have some fun this summer.
SUMMER FESTIVALS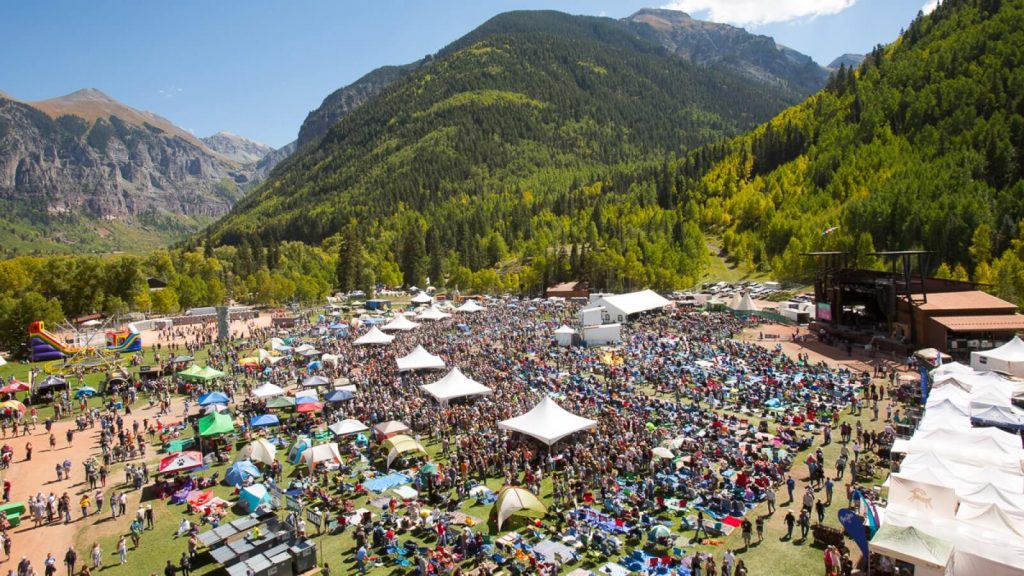 TAG: Large outdoor LED display screens | Large LED Video Screen rentals | Large LED video displays | High end LED display systems | Large LED screen rentals for events | Large outdoor displays
DENVER ARTS FESTIVAL
WHEN: May 26–27, 2018
WHERE: Conservatory Green at Northfield Stapleton
During the Denver Arts Festival, more than 100 of Colorado's most esteemed artists showcase paintings, sculpture, photography, glasswork, woodwork and more. A small set of acclaimed national artists will also display their work. This popular event is expected to bring over 50,000 attendees.
DENVER DAY OF ROCK
WHEN: May 26, 2018
WHERE: Downtown Denver
A free, outdoor music festival in the heart of downtown Denver? Yes, please. Denver Day of Rock is an annual tradition that sees dozens of performers bringing rockin' good vibes to The Mile High City. This event will feature five stages of live music throughout downtown Denver.
TAG: Large outdoor LED display screens | Large LED Video Screen rentals | Large LED video displays | High end LED display systems | Large LED screen rentals for events | Large outdoor displays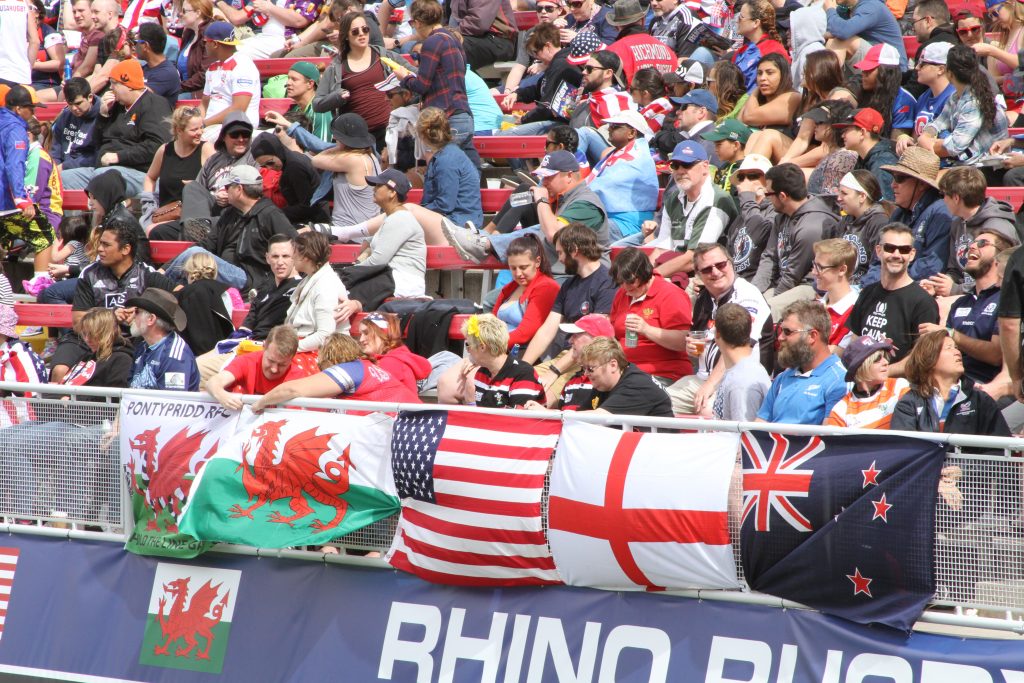 TAG: Large outdoor LED display screens | Large LED Video Screen rentals | Large LED video displays | High end LED display systems | Large LED screen rentals for events | Large outdoor displays
CAPITOL HILL PEOPLE'S FAIR
WHEN: June 1–3, 2018
WHERE: Civic Center Park
The Capitol Hill People's Fair is one of Colorado's longest-running outdoor festivals. Special features include a wine pavilion, jazz stage, "Fine Art Avenue," food from local restaurants, and a hoppin' kids' area. It's truly an event for the people!
DENVER CHALK ART FESTIVAL
WHEN: June 2–3, 2018
WHERE: Larimer Square
Every spring, the sidewalks around Larimer Square come to life during the annual Denver Chalk Art Festival, as more than 200 professional, amateur and student chalk artists turn concrete into canvas. This is a don't-miss event, especially since these masterpieces will be washed away with the next spring shower.
COLORADO SHAKESPEARE FESTIVAL
WHEN: June 9–Aug. 12, 2018
WHERE: University of Colorado Boulder
See Shakespeare under the stars in the historic Mary Rippon Outdoor Theatre or inside the University Theatre on the University of Colorado campus in Boulder. The Colorado Shakespeare Festival is a summertime favorite. Bring a picnic and arrive early to enjoy it on the lawn before the show. This year's lineup includes "Love's Labour's Lost," "Richard III," "Cyrano de Bergerac," "Edward III" and "You Can't Take It With You.
COLORADO RENAISSANCE FESTIVAL
WHEN: June 16–Aug. 5, 2018
WHERE: Larkspur
Flash back to the 16th century and journey through a medieval city at the Colorado Renaissance Festival. Enjoy full-armor jousting, tasty turkey legs, music and a marketplace featuring more than 200 artisans.
DENVER COMIC CON
WHEN: June 15–17, 2018
WHERE: Colorado Convention Center
Denver Comic Con is three days of pop culture, costumes and fan fun for the whole family. Come experience a wow-weekend of celebrity encounters, comics, sci-fi and fantasy TV, gaming and movies.
THE DENVER BBQ FESTIVAL
WHEN: June 15-17, 2018
WHERE: Sports Authority Field at Mile High
Join legendary pitmasters as they serve up world-class barbecue. Plus, enjoy live music, cold beer and barbecue demonstrations at this inaugural event. Admission is free on Saturday and Sunday while there is a ticketed preview party on Friday.
JUNETEENTH MUSIC FESTIVAL
WHEN: June 16, 2018
WHERE: Five Points neighborhood
Listen to the sounds of hip-hop, R&B, blues, soul and jazz as nearly 200 vendors line Welton Street.
DENVER PRIDEFEST
WHEN: June 16–17, 2018
WHERE: Civic Center Park
Denver PrideFest is one of the biggest LGBTQ events in the country and takes place over a summer weekend. The free two-day festival begins with a parade and features a rally, music and food.
SERIESFEST SEASON 4
WHEN: June 22–27, 2018
WHERE: Sie FilmCenter and various venues around town
This annual showcase of the best new TV pilots brings together industry luminaries, emerging artists and passionate audiences.
WESTWORD MUSIC SHOWCASE
WHEN: June 23, 2018
WHERE: Golden Triangle Creative District
This summer music festival brings local and national acts together for a day of great entertainment.
CHERRY BLOSSOM FESTIVAL
WHEN: June 23–24, 2018
WHERE: 20th and Lawrence Streets
Japanese culture and heritage are showcased at the annual Cherry Blossom Festival. Dance, taiko drums and martial arts are featured on the outdoor stage, while inside the Denver Buddhist Temple you'll find food sales and exhibits.
COORS LIGHT SOUTH PLATTE RIVERFEST
WHEN: June 23, 2018
WHERE: Confluence Park and Little Raven St.
The Coors Light South Platte Riverfest is expected to draw more than 20,000 attendees to the banks of the South Platte River, in the heart of Denver. Enjoy free paddleboarding demos; self-guided rafting, tubing and kayaking; live music; craft beer; artists creating new works on site; a kids' zone and yummy food.
JULY
INDEPENDENCE EVE FIREWORKS
WHEN: July 3, 2018, 8 p.m.
WHERE: Civic Center Park, Broadway and Colfax
The annual Independence Eve Celebration in Civic Center Park will feature a free patriotic concert, an innovative light show on the Denver City and County Building and a stunning fireworks finale.

CHERRY CREEK ARTS FESTIVAL
WHERE: Cherry Creek North
WHERE: Civic Center Park, Broadway and Colfax
This free, outdoor extravaganza — the city's signature cultural celebration of the visual, performing and culinary arts — gives more than 350,000 annual visitors the chance to meet and talk with international visual artists, enjoy a wide range of family-friendly fun and sample fine cuisine. At the Cherry Creek Arts Festival, experience Artivity Avenue, a full block of interactive activities perfect for youngsters. Visit the Cultural Pavilion, where music, dance and theater from around the globe will be presented. Culinary Avenue features tasty treats and live cooking demonstrations from some of Denver's most popular eateries.
ROCKY MOUNTAIN REGIONAL GAY RODEO
WHEN: July 6–8, 2018
WHERE: Jefferson County Fairgrounds
Colorado rides with pride during this annual event. Besides the typical rodeo events, there are some twists like goat dressing and a Wild Drag Race.
COLORADO BLACK ARTS FESTIVAL
WHEN: July 13–15, 2018
WHERE: City Park
This family-friendly event showcases the creative talents of local, regional and national African Americans in art and culture. The three-day Colorado Black Arts Festival also features three performing stages filled with dance, jazz, blues, soul, reggae, gospel, traditional African drum and dance.
SLOW FOOD NATIONS
WHEN: July 13–15, 2018
WHERE: Larimer Square
Combining the energy of a street food festival, the rigor of an academic conference and the inspiration of a cultural exchange, Slow Food Nations is the festival to taste and explore good, clean and fair food for all.
DENVER COUNTY FAIR
WHEN: July 13–15, 2018
WHERE:National Western Complex
The annual Denver County Fair is a place to share ideas, traditions, creativity, local culture and intellect. The fair highlights the talents, trends, diversity and interests of the residents of the amazing City and County of Denver. Events include a skateboard rodeo, a carnival (complete with rides and midway games), competitive eating contests, animals, rockets, roller derby a beer and wine festival and so much more.
UNDERGROUND MUSIC SHOWCASE (UMS)
WHEN: July 27–29, 2018
WHERE: South Broadway
The Underground Music Showcase, Denver's very own version of Austin's South By Southwest Music Festival, takes over the streets and stages of South Broadway for a multi-night extravaganza featuring the cream of Denver's underground music scene. Over 400 local and national bands play in nearly 20 venues for more than 5,000 music lovers over four days and nights. Music fans can stroll from club to club and stage to stage, catching the city's rising stars before the rest of the world hears about them.
COLORADO DRAGON BOAT FESTIVAL
WHEN: July 28–29, 2018
WHERE: Sloan's Lake Park
Founded in 2001 to celebrate Colorado's Asian Pacific American (APA) culture, the Colorado Dragon Boat Festival has become the region's fastest growing fun, family-friendly summer festival. Named "Top Annual Festival" by the Rocky Mountain News and a "Best of Denver" event by Westword, it offers festival-goers the opportunity to explore APA customs through performances, arts and crafts, shopping, dining and the exciting athletic competition of dragon boat racing.
TAG: Indoor and outdoor screens | Large indoor LED display screens | Large LED screens | Large LED screens for rent | Large LED Video Screen rentals | Large outdoor LED displays | Modular rental screens
THE TANS WILL FADE BUT THE MEMORIES WILL LIVE ON FOREVER
SPRING EVENT PLANNING WITH LARGE MOBILE LED SCREEN RENTALS
WITHOUT OUR LED SCREENS THERE IS NO EVENT!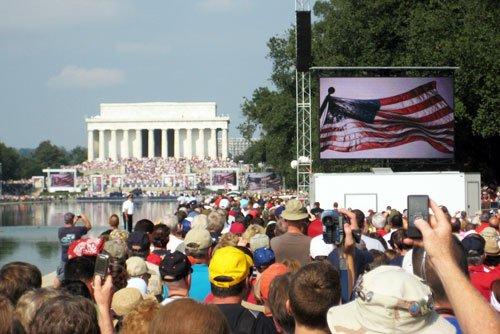 TAG: Large LED Video Screen rentals | Large LED video displays| Indoor and outdoor screens | Mobile LED screens | Large LED screens for rent |
With Spring and Summer fast approaching now is the time to plan the maximum impact for your indoor and outdoor events. No event is too large or too small for Mobile View Screens! We arrive at your venue and within minutes take control of your advertising needs. Our screens are totally mobile and can move easily even during the event from one location to another. Our professionalism, reliability and responsiveness to the client, is second to none, and we can deliver any size outdoor or indoor LED screen, anywhere in North America on a moments notice through our vast network of affiliate companies. We have a huge selection of large LED video displays and Mobile Jumbotrons for rent.
Top features of LARGE RENTAL LED SCREENS you can't do without:
Operational within minutes
Reliable performance
Self contained and self powered
Vivid image in bright daylight or night
Great sponsorship and advertising opportunities
On board production suite
Front row seating at any event no matter how large.
Mobile View Screens has provided state-of-the-art large mobile LED screens and outdoor LED signs for major sporting events, product launches, corporate gatherings, political rallies, fairs, festivals, specialty and charitable events since 1999. We also have a huge selection of modular rental screens for stage, concerts or conference designs and marketing.
TAG: Large LED Video Screen rentals | Large LED video displays| Indoor and outdoor screens | Mobile LED screens | Large LED screens for rent | Jumbotron rentals
If you are planning a large event you will do well to have a Mobile View team at your side to make sure your event goes smoothly and you get the maximum impact for your advertisers. Contact us today and we will help you make the choices and designs you need for your upcoming event.
Contact us : 303-770 3416
MOBILITY OF LARGE LED RENTAL SCREENS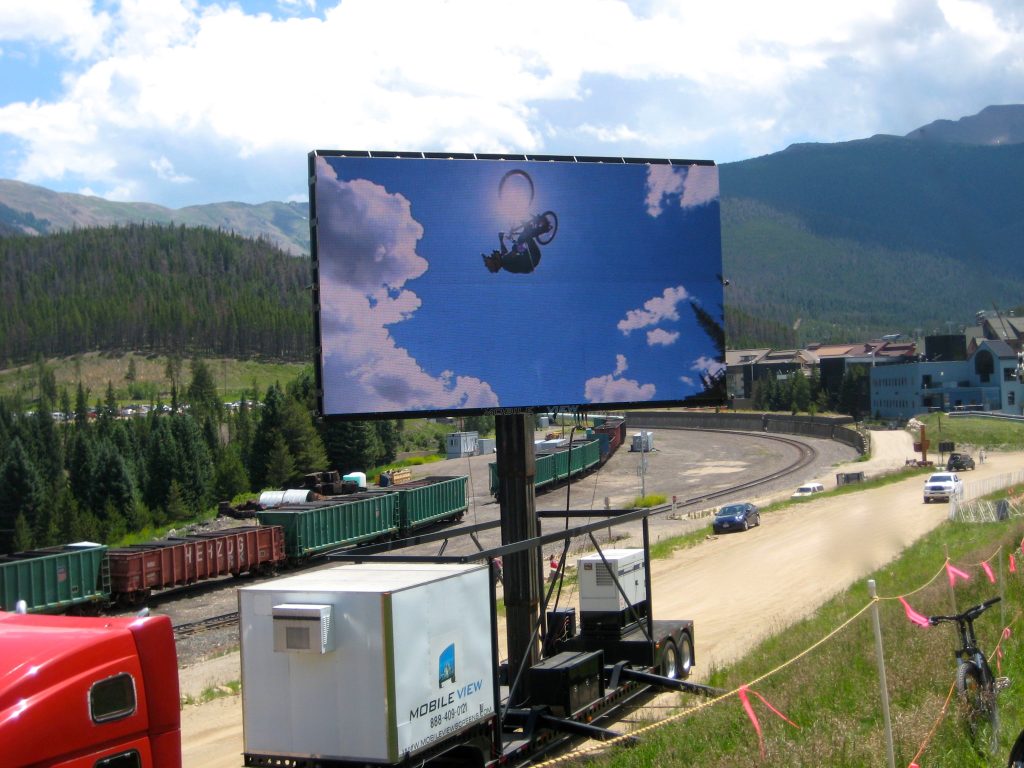 The perfect way to advertise at huge sports events
Mobile View prides itself on working closely with set designers and clients, putting together the concepts for their indoor concerts or events of any kind, using our Modular Rental LED Screens. Mobile View gives personal, one on one guidance to develop creative and cost effective staging adding excitement and advertising dollars to any festivals or corporate events.
Our large Mobile Rental LED Screens are also hugely popular for outdoor sports events or political events where maximum impact is needed for large crowds. These cost effective Rental Screens are mounted on our trucks, giving the advertiser total control in the positioning of their message and can be moved throughout the event to different locations. The mobility of these large screens make them very popular for large outdoor events of any kind. The quality and color of these Mobile outdoor LED rental screens is remarkable and can be used in any weather rain or shine.
Spring is the perfect time to plan your outdoor events and our rental LED screens and modular rental screens book up quickly. Contact us at Mobile View Screens and we will work hand in hand with you to plan your spectacular upcoming event, whether outdoor or indoors.
http://www.mobileviewscreens.com/
https://www.facebook.com/mobileviewscreens/
303-770 3416
TAG: large mobile rental screens | Mobile LED rental screens | Modular rental screens | Mobile View Screens | modular LED screens
STAND OUT ABOVE THE CROWD
Modular Rental LED Screens and large Jumbotrons for your Trade Shows, Sports Events and  Exhibitions.
With Trade Shows and exhibition season arriving we are always excited to see what's happening in our neck of the woods.   Most of these shows will have Large LED rental screens to make it easier for large crowds to enjoy the events without having to push to the front of the action.   Our various sizes in modular rental screens allows event organisers to advertise their goods in smaller spaces.   Their high resolution and color quality will magnify the experience and make your exhibition space stand out from your competitors.   We at Mobile View Screens can put together any modular led screen designs to fit practically any space, large or small.
Here are some upcoming events happening in Denver in the next month:

February 26, 2018 7:00 pm
Avalanche vs Vancouver – Pepsi Center, 1000 Chopper Cir, Denver CO 80204
Special Olympics Colorado Boulder Polar Plunge
Contact – Alexandra VanderPol avanderpol@specialolympicsco.org https://www.classy.org/event/boulder-polar-plunge-presented-by-westerra-credit-union/e150867
February 24, 2018 11:00 am
March 3,        2018 11:00 am
March 17,       2018 11:00 am
FREEZIN' FOR A REASON…it's the 2018 Polar Plunge presented by Westerra Credit Union. Show your support for over 22,000 Special Olympics athletes in Colorado by plunging into icy waters and raising money for Special Olympics. Here's how it works: Start a team or join a team (the more the merrier!) and ask your family and friends to pledge money towards your plunge. There are great incentives for reaching certain fundraising levels, and all proceeds benefit our amazing and courageous Special Olympics athletes.These are just a few fun things for you to take a look at.   However, if you are planning an event in the upcoming event season, we will come out and spend some time consulting with you to see exactly what the best products are for your particular event.   Whether its an indoor or outdoor event, we have a large selection of mobile LED rental screens for you to choose from.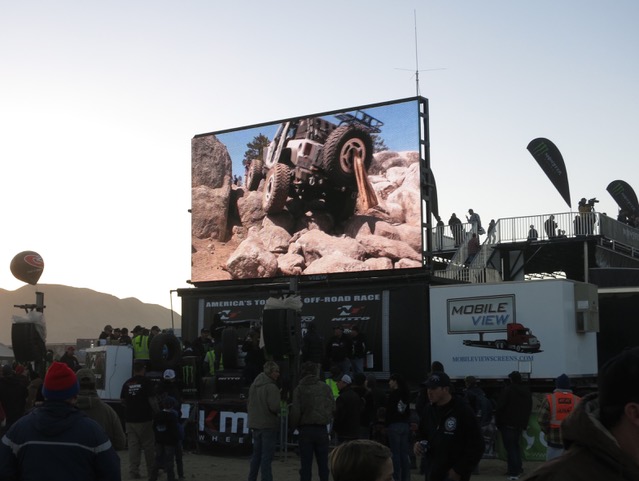 TAG: Modular LED screens | Large indoor LED display screens | Large LED screens | Large LED screens for rent
TAG:  Large outdoor LED displays | Mobile LED screens | Outdoor advertising displays | Outdoor LED signs and screens
We also offer these specialized services:
On site consultations
Custom designing
Screens as large as you want
LED Screen Rental
On-board production suite
We deliver and install anywhere in North America
TAG:  LED screen rental | Large LED video displays | Indoor and outdoor screens | Jumbotron | Large LED screen rentals for events
Our Products
:
Mobile LED /Screens
Modular LED Screens
Custom Size LED Screens
Indoor and Outdoor Screens
Mobile LED Billboards
Please contact us at Mobile View Screens and we will answer any questions you have:
Call Us : 303-770-3416
NEW YEAR – NEW ENTERTAINMENT
The new year has arrived and with it a whole new opportunity to destress, get out and about and enjoy all the events from sports to concerts that are on offer. Probably, one of your New Year resolutions is to take time to enjoy life a little and make time one the weekends to get out the house and off your screens. One of the added benefits of attending large concerts or sports events is the installation of indoor or outdoor large modular or mobile LED screens. No need to buy the best tickets in the house anymore, no matter where you sit you will have a great view of these screens dotted around the events making for very enjoyable entertainment.
TAG: Large LED screens | Large LED screens for rent | Large LED video displays | Outdoor LED displays
CHOOSING MODULAR LED SCREENS
Modular LED walls are constructed on-site using trussing and rigging. Modular LED is popular for events that require a custom video size, ratio or aesthetic.
Modular digital video screens are ideal mediums for exhibitions and conferences. They can be used for backdrops displaying products and company information.
By deciding to enhance your product advertising with Modular LED screens, you will be making a strong impression with your potential clients and make your mark in the industry you target. With well thought out content your new customers, peers and delegates to these large conferences will be impressed and your product will leave a lasting impression. There is no better way to generate results that are lasting, than by branding and screening your product launches on Modular panels. Sponsors love this type of advertising and these Modular LED panels can also be used for Award Ceremonies, reveal winners of competitions.
TAG: Indoor and outdoor screens | Large indoor LED display screens | LED display screens | Outdoor advertising displays
The best advantage to using modular LED screens is the light effects and patterns that can be designed around several screens, enhancing the concert or event to a surround effect. Adding the surround sound and lighting will bring the event up to a world class standard.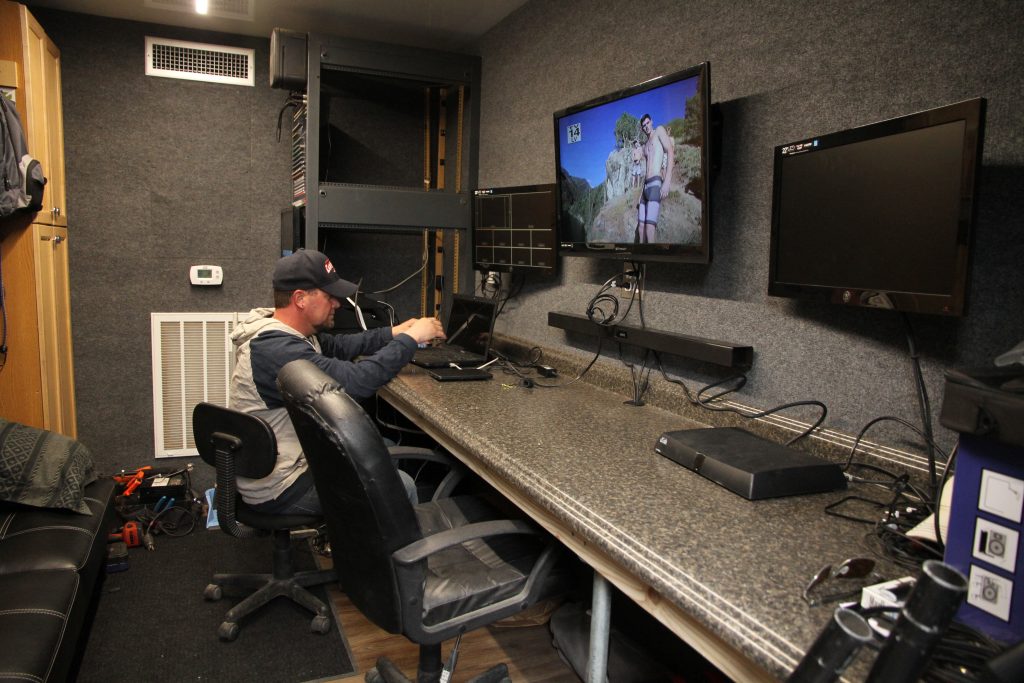 TAG: Large LED Video Screen rentals | Large outdoor video displays | LED display screens Mobile LED screens | Outdoor LED signs and screens
TAG: Big screen tv | Jumbotron Jumbotron Rental | LED screen | Live Video | Mobile LED Screen | Mobile Screen Rental | Outdoor Event | Outdoor Screen | Video Board | Video Equipment | Video Production | video screen | Video Wall | Wireless Signal | Wireless Video
We have also seen a huge uptake for private events such as weddings and general celebrations using Modular LED displays as backdrops on the stage to help decorate and enclose the space around the main focal point of the celebration. All in all this is a very cost effective form of decor for event organisers to make an event unique and memorable.
LARGE LED SCREENS – WINTER EXCITEMENT
Join MobileView Screens in celebrating the changing of seasons in this spectacular city of Denver, Colorado. With so many upcoming events leading into the holidays, there are so many exciting things to do and see and our Mobile Large Led Video Screens will be part and parcel of many of these events. Bundle up warmly, join in on the fun with family and friends and get out and experience some of these fun events. Our large indoor and outdoor LED Screens will bring these events right to the forefront for your enjoyment, so no need to get front row seats. Below we have just a few to choose from.
HAPPY THANKSGIVING TO ALL
MobileView Screens | Large LED Video Screen Rentals | Indoor and Outdoor Rental Screens


Large LED Screens | Large Video Screen rentals | Large LED Video Screen rentals
GRAND ILLUMINATIONWHEN: Nov. 24, 2017WHERE: Downtown Denver
Grand Illumination
features beautiful lighting displays in the LoDo District and
Denver Union Station
. Downtown's unique holiday atmosphere is sure to get you in the holiday spirit. Festivities at Denver Union Station include a countdown to this year's holiday lighting, carolers and treats, drinks at The Terminal Bar and more.
LIGHT THE LIGHTS
WHEN: Nov 24, 2017
WHERE: City & County Building, 1437 Bannock St.
The official kick-off to the largest lighting display in Denver happens on November 24 at 6 p.m. at the City & County Building, where 600,000 lights deck the neo-classical building. Enjoy family-friendly fun, food, and live music in the light of the City and County Building at Light the Lights.
SANTA'S FLIGHT ACADEMY
WHEN: Nov. 9–Dec. 24, 2017
WHERE: Cherry Creek Shopping Center
Let your little ones help Santa ready his sleigh for the big day during Santa's Flight Academy! Visit with jolly St. Nick, try out his Flight Suit Visualizer, and enjoy the magical snow and light show at Cherry Creek Shopping Center.
DENVER CHRISTKINDL MARKET
WHEN: Nov. 17–Dec. 23, 2017
WHERE: 1515 Arapahoe, Denver, CO 80111
The Christkindl Market includes vendors from Germany, Ukraine, Ireland and other countries — as well as local artisans — offering high-quality gifts, such as hand-carved wooden figurines, handmade candles and ornaments. Traditional German food will tempt your taste buds. Sip on warm Glühwein (hot spiced wine) as you listen to traditional Christmas carols and live German music. Entry is free and the entire family is invited.
DOWNTOWN DENVER RINK AT SKYLINE PARK
WHEN: Nov. 21, 2017–Feb. 14, 2018
WHERE: Skyline Park, the corner of 16th and Arapahoe
Grab your family and friends and head to 16th and Arapahoe in downtown Denver to the Downtown Denver Rink at Skyline Park. Skate rentals are $2, or bring your own pair and take a spin on the ice for free! Free days for kids will take place throughout the season. Look for regularly scheduled entertainment and activities each week including: Friday night DJs; Saturday morning skating lessons; Saturday night concerts; and Sunday afternoon family entertainment.
SANTA'S VILLAGE AT CHATFIELD FARMS
WHEN: Nov. 24–Dec. 24, 2017
WHERE: Chatfield Farms at the Denver Botanic Gardens
Bring the kids to meet Santa (and his reindeer), make crafts with Mrs. Claus and take a magical hayride under twinkling holiday lights at Santa's Village. Afterward the whole family can shop for handcrafted gifts in Santa's workshop.
ZOO LIGHTS
WHEN: Preview Weekend Nov. 24–25, 2017
WHERE: Denver Zoo
Zoo Lights will span 70 acres of Denver Zoo's campus with nightly entertainment, animal encounters, Santa meet-and-greets and, of course, illuminated animal sculptures that swing through trees, jump across lawns hide in bushes and appear in places where they're least expected.
BLOSSOMS OF LIGHT
WHEN: Nov. 24, 2017–Jan. 1, 2018
WHERE: Denver Botanic Gardens
Embrace the holiday season at Blossoms of Light. The first night will display over one million colorful lights draped in elegant designs highlighting the Gardens' winter beauty. Enjoy sparkling passages, new displays and romantic kissing spots under the mistletoe, all made even more beautiful through HoloSpex glasses. Warm drinks and tasty treats will also be available.
THE POLAR EXPRESS™ TRAIN RIDE
WHEN: Nov. 9–Dec. 23, 2017
WHERE: Colorado Railroad Museum
Grab your golden ticket! The beloved children's book comes to life in The Polar Express™ Train Ride, a theatrical recreation at the Colorado Railroad Museum that takes place inside a real train car, complete with cookies and hot chocolate.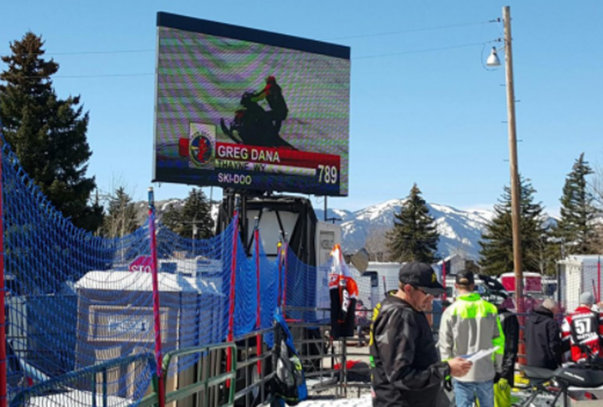 Mobile and Modular Screens | Mobile LED Screens | Large Outdoor LED Displays | MobileView Screens
Sports Commission Events
DENVER NUGGETS VS. NEW ORLEANS PELICANS
NOV 17, 2017
   PEPSI CENTER 1000 CHOPPER CIR., DENVER, CO
  STARTING: 8:30 PM
  VARIES
The Denver Nuggets face off against the New Orleans Pelicans.
OCT 20, 2017 – DEC 30, 2017
  417 E. 17TH AVE., DENVER, CO
  STARTING: 07:30 PM
  $15 – $20
Finally, a fun, fast-paced comedy show that's great for the whole family, great for business entertainment and great for groups of all types. It's ComedySportz®, improv comedy played as a sport! ComedySportz has been playing in cities all…
UNIVERSITY OF DENVER HOCKEY VS. NORTH DAKOTA
NOV 18, 2017
  2201 E. ASBURY AVE., ROOM 4267, DENVER, CO
  STARTING: 07:00 PM
Come out and watch the National Champions defend their title!
WARREN MILLER'S LINE OF DESCENT
NOV 16, 2017 – NOV 18, 2017
This fall, don't miss Warren Miller's Line of Descent, presented by Volkswagen. Travel the globe, by land, air, and sea, exploring the ties that bind ski culture. Head to Steamboat as pro-snowboarder siblings Taylor and Arielle Gold throw…
QUALITY SERVICE FOR MODULAR AND LARGE LED RENTAL SCREENS
MobileView Screens has designed many different combinations of LED video display screens for indoor conferences, conventions, concerts and live events of any kind. Our strength lies in our many years of experience and personal consultation with our clients. We use the wisdom of a talented crew to help you stage an event that is uniquely suited to your particular organization.
Our team consists of professionals with years of communications and management experience. We are capable of planning and carrying out one of a kind events, exclusive to your particular company. We will ensure the best quality of service to be delivered in the most seamless way from the consultation to the event execution.
MobileView Screens and their team of professionals has planned and carried out many successful and varied events since 1999. Our portfolio covers events such as massive outdoor sporting events and concerts, indoor conferences and conventions, weddings and private celebrations, to religious gatherings and parties. Our inventory is vast, offering so many different configurations from smaller modular video screens to large mobile Jumbotrons. We can deliver any size LED screen, anywhere in North America on a moment's notice.
Our major point of difference with many of the LED rental companies is the undivided care and attention to detail that we offer our clients, making sure that their events are a total success. We are proud to say that we have many returning clients who treat us as an extension of their advertising arm.
We stand behind our brand with full support and affordable pricing.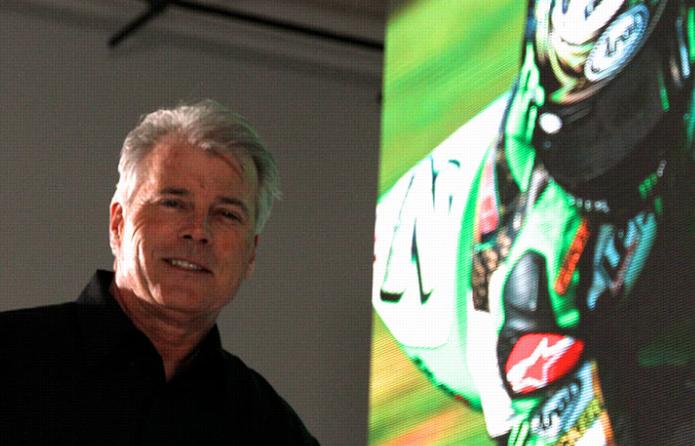 Call us (303) 770-3416
  to address your specific advertising needs.
Front Row Seats- Not a Problem with MobileView LED Video Screens
Fall is fast approaching and every family wants to make the most of those outdoor events, but finding affordable seats can be a challenge for large music or sports events. Large mobile LED signs and displays have now become a total necessity for extending the best viewing to a large audience. Not only are you offering closeup viewing for all the fans but the colors and contrasts take the event to a whole new level of excitement. Our Reliable outdoor LED signs and displays will not disappoint. Fans will be more engaged which is always good news for your event sponsors. Our Large LED screens offer cost effective advertising opportunities and great returns on the dollar for large companies.
Get out and enjoy the last few outdoor events that offer Large outdoor LED video displays. Take a look at our list of upcoming events:
https://www.denver.org/things-to-do/fall-winter/denver-fall-festivals/
https://www.biennialoftheamericas.org/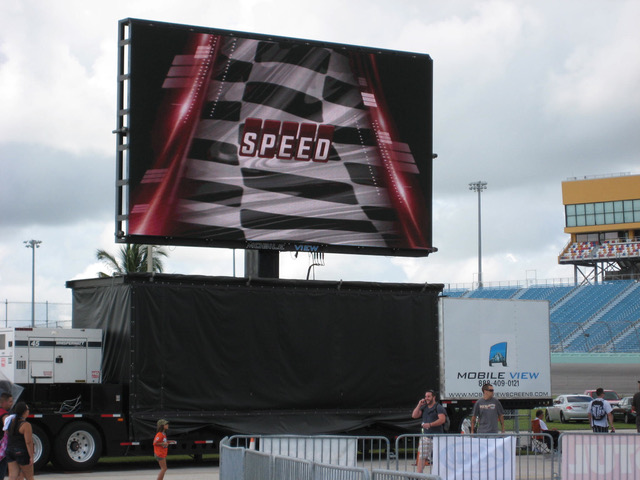 SPONSORS WILL BE DANCING IN THE STREET
WANT TO GET THE CROWD PUMPED?
How about a pre-game video shown on our Jumbotron or Large Mobile LED Rental Display?
Sponsors need to be SEEN, HEARD AND REMEMBERED. They want the biggest bang for their bucks and MobileView Screens offer one of the most affordable ways to capture a huge audiences full attention at a very reasonable cost. It could be an inspirational message before a race or an introduction to players for a sporting event. Sponsors could show interviews after the big win. There are so many marketing options that can be used to incorporate sponsorship pre and post events.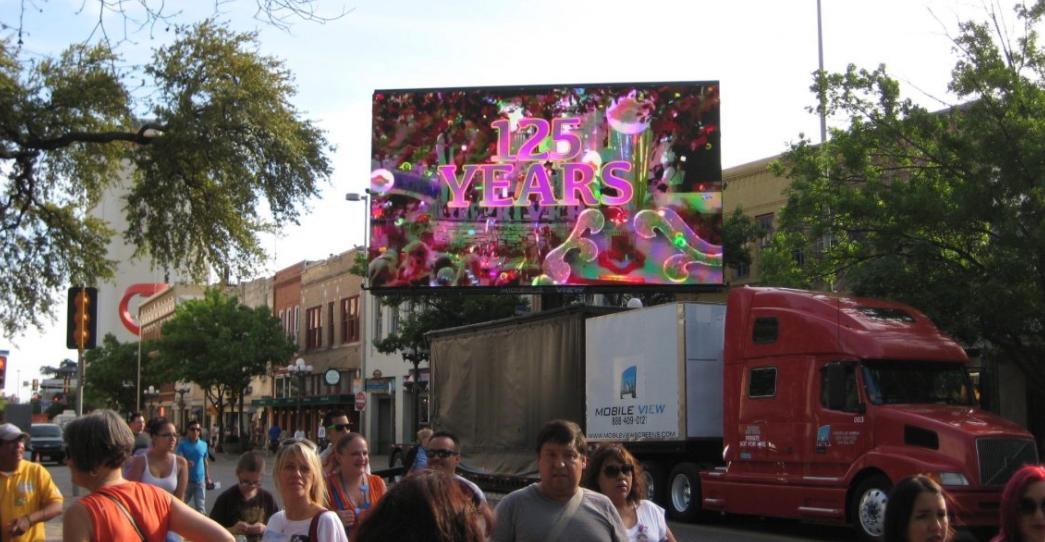 Renting a large mobile LED display screen for any outdoor sports event or concert adds excitement and visibility to your event. Any large event that has a huge crowd cannot be a success without bringing in these mobile screens. One of their best features is their mobility – they can be moved at very short notice and set up in next to no time in another spot to captivate the crowds attention. Sponsors can make or break a budget – keeping your sponsors happy with these full color, clear pixels and high resolution, all weather outdoor screens can keep them coming back year after year. Our unique trucks are totally self contained with power, video and audio and also offer another surface on the side wall of the truck for added banners.
MobileView Screens also offer a huge selection of Modular LED Rental Screens and will work with you or your design team to choose the best screens and designs for your indoor or outdoor concert, wedding or political event. We are known for our personal service and take pride in our attention to detail that will help you to have a successful event.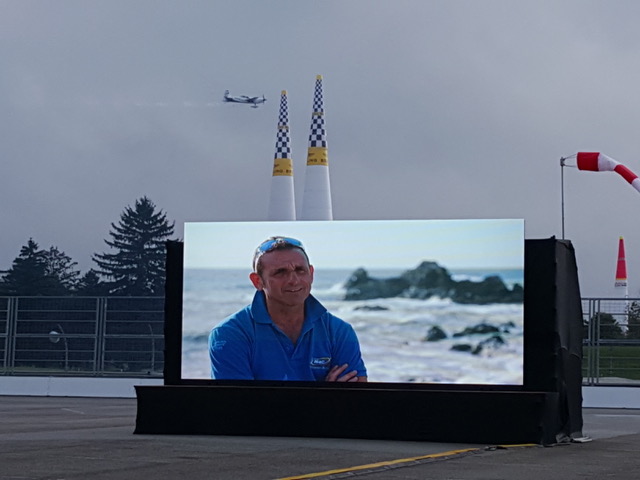 Our selection of modular rental LED displays can be incorporated into your show, surrounding the audience, making the stage and side area all encompassing and therefore enhancing the total experience. These rental LED screens are being used for their spectacular effects by big bands and singers instead of traditional props that are cumbersome to transport and erect.
Let our team of helpful engineers work with you to put together an event to be remembered!
DON'T MISS OUT ON THESE SUMMER EVENTS
While researching the latest concerts that are hitting the Denver area this summer we realized that all these events would be boring and flat without large mobile LED screens to enhance the experience. Whether it's a music concert with modular screens artistically spaced on stage, capturing your favorite bands in full spectacular color or an exciting sporting event using our large screens, entertainment just wouldn't be the same without them.

Our screens are so versatile and quick to erect that they have been used in many different settings. Our best uses for our modular rental screens are sporting events, concerts, conferences, clubs and even large weddings.
Help cover those Jumbotron Costs – and enhance the fan experience with digital signage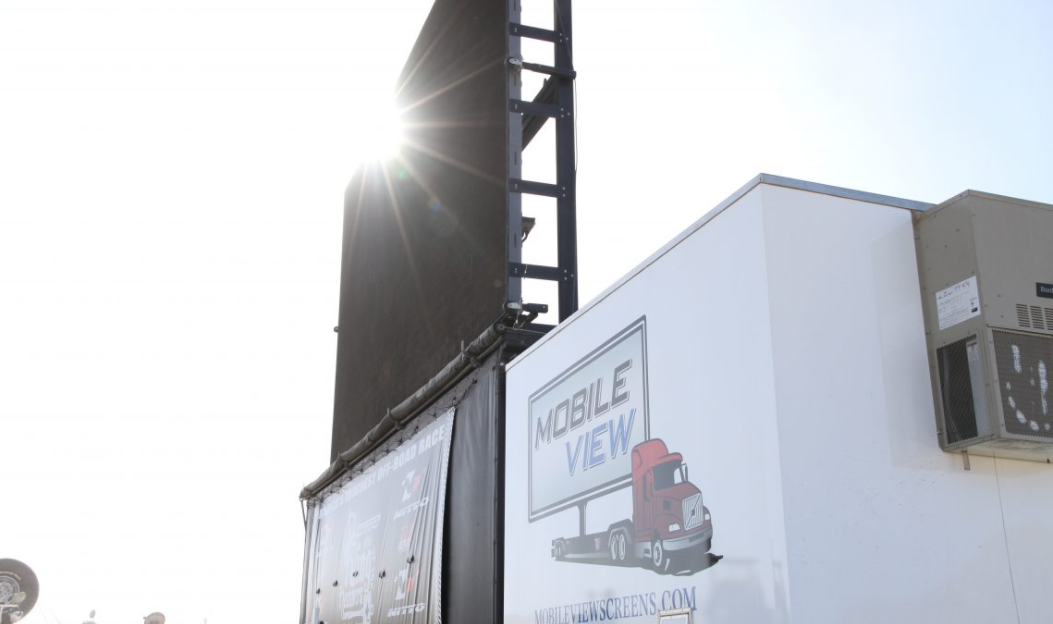 There is just no getting around the need to hire Large mobile LED video screens for outdoor events, from music festivals to sporting events. Whether you are attending the live event or watching digitally, these screens will offer the best front row seating and fan experience. Fans demand an immersive experience, exciting and captivating on all levels. These versatile outdoor and indoor LED signs offer sponsors a captive and targeted audience allowing them to push for a great ROI from their advertising. These mobile units have many advertising spots for sponsors, whether its projected live video feeds, television commercials, or branded videos:
The video wall can be used for fixed advertising

The video screen is available to sell ad time which runs throughout the event, during commercial breaks

Banners surrounding the video screen are very effective as solid impressions

Then there's the walls of the mobile unit for large wrap banners.

Smaller video screens in hospitality areas behind the grandstands will drive sales and enhance the content being shown on the main Jumbotrons
It is a win win situation for both the event organizers and the sponsors. All of these are great ways to offset costs, and have successful sponsors. It sure beats having your logo printed on a Tshirt!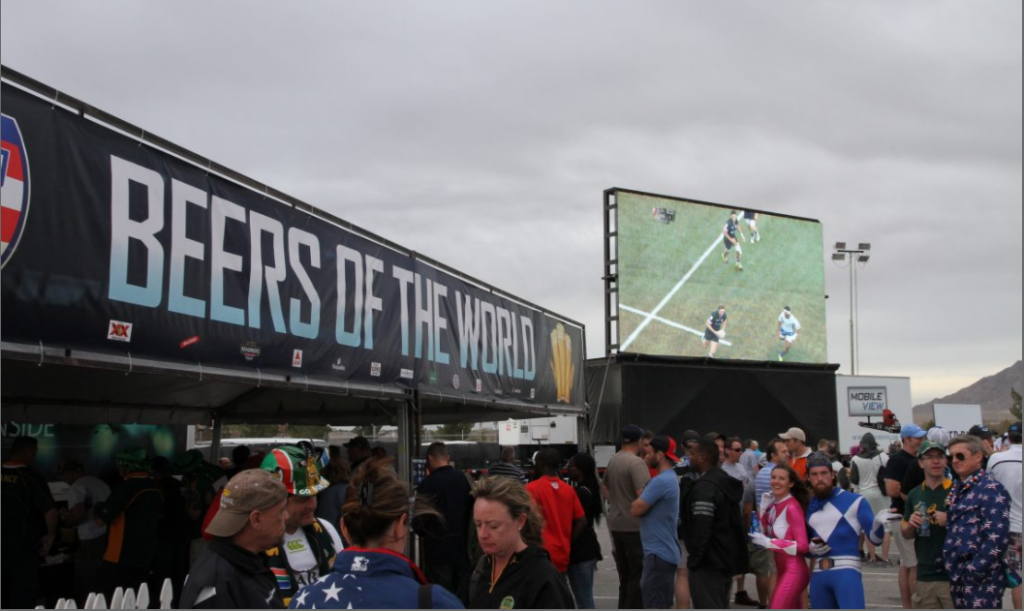 MOBILEVIEW SCREENS Call us at 303-770-3416
For our expert advice and consultation
We can deliver any size LED screen, anywhere in North America on a moment's notice through our vast network of affiliate companies.
Sponsors Love Our Large Outdoor Video Displays
Mobile View screens and displays offers the opportunity for companies to show exclusive content which is designed to drive public engagement and corporate sponsorship dollars.
Traditional outdoor signage and static billboards are fast being replaced by mobile large LED screens and Jumbotrons which are more engaging, dynamic and have the ability to draw audience attention and interaction. Events that attract large audiences have a need to gain their undivided attention and LED screens for outdoor events are becoming an automatic part of event coordinators planning and budgeting. People's sensory arousal, attention and memory processes are positively influenced by the physical size and brightness of mobile LED display screens.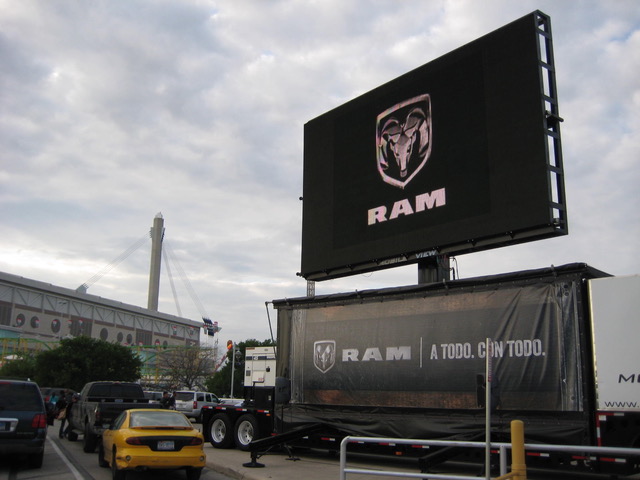 Live events that greatly benefit from outdoor LED signs and screens are Business Launches, 4th of July and Labor Day parades, Music Festivals, Sporting Events, Motorsport Events, Rodeos & State Fairs, Super Bowl parties and Movie Nights, just to name a few.
Let us at Mobile View Screens help you to plan and execute your next event so that you and your advertisers can get a good return on your investment.

CALL FOR HELP

Benefits Of Advertising On Outdoor LED Screens
With the competitive nature of the advertising market, large LED screen displays are the future medium of advertising for outdoor events. Their ability to raise company awareness, promote brands and enhance fan experience makes these displays an integral part of the experience in arenas, stadiums, entertainment and sport events. Consider the following benefits for your next event.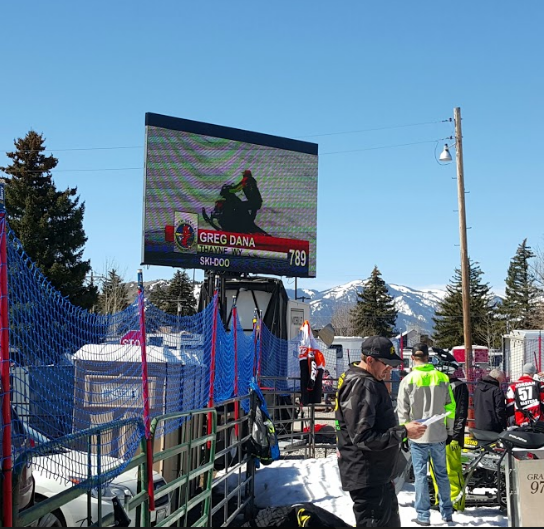 Target the right audience –
Large LED screens allow companies to advertise to their perfect captive demographic. Your message will be broadcast to a gathered group of people already interested in your product, in a short amount of time.
Affordable Marketing Option –
With the huge cost of advertising on radio and television today, companies can't afford to throw away dollars on the wrong audience for their products.
Greater reach to larger groups-
Mobile LED screens allow a huge gathering of people to all have good visuals of the content being broadcast.
Split Screen Opportunity-
Combining two separate companies adverts on one screen either with a banner or split screen allows for a huge cost saving for advertisers. Some of the most successful product launches started at large sports events or shows.
No Bad Weather Restrictions –
The high quality and brightness on these LED screens allows the show to go on no matter what the weather issues are, rain or wind.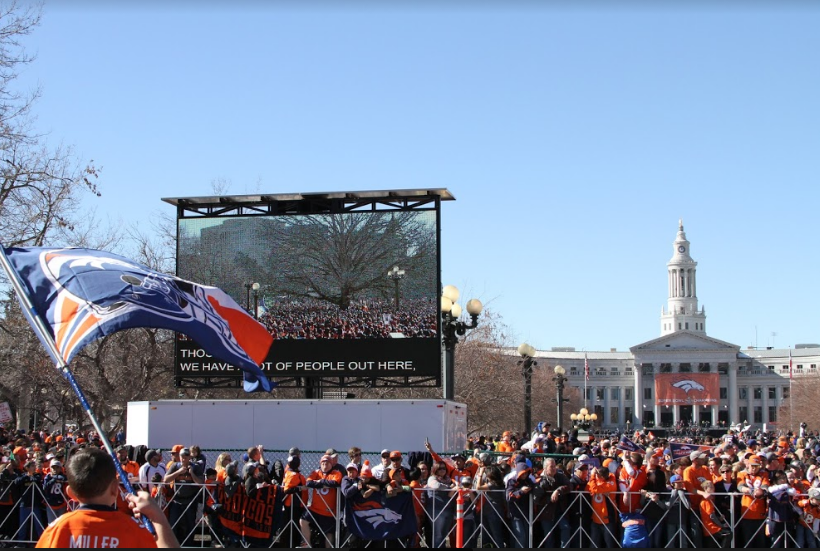 Mobile View Screens covers all rental options, from Large Mobile LED Screens, Modular Screens to Jumbotrons. We can help you with the right choice for your event
OUTDOOR LED DISPLAYS
Mobile screens bring video capabilities into your event whether it's indoors or outdoors. Our vast selection of versatile outdoor display systems and modular LED screens give you the opportunity to design any shape or size parameter you require.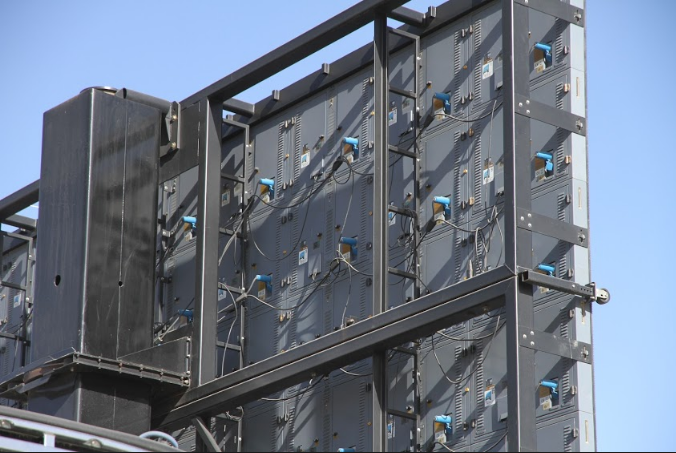 Outdoor display systems
Our outdoor LED displays produce high quality, dynamic images in vivid colors, with excellent contrasts. Your choice of breathtaking images or videos will enhance any event from corporate presentations, live sports events to massive trade shows and conferences.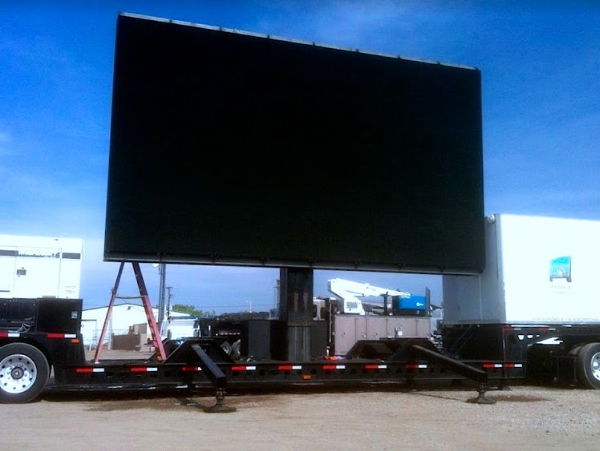 Outdoor digital signage
Outdoor digital signage is a dynamic infotainment centerpiece that will take your event to the next level and will make that unequalled connection to your audience. These outdoor advertising displays provide a communication tool that reinforces your message and connects the audience with your unique brand.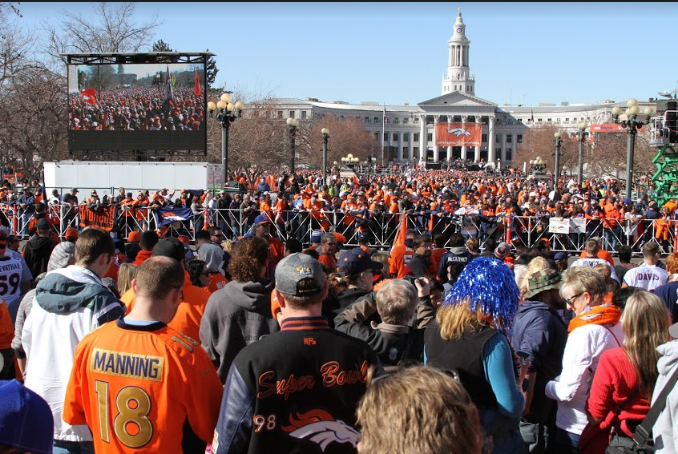 Outdoor screens
Mobile View Screens offer a huge choice of large visual displays that will help you target your widest, most appropriate audience for any event. In today's media rich market outdoor signage and outdoor displays have become a necessity to attract the full attention of your target audience, offering them an all encompassing experience. Outdoor screens are the marketing tool of the future offering endless, exciting ways to show your product in high definition with no disturbance from the weather or sunlight. For a full, all encompassing marketing avenue there is no better choice on the market today that is also so cost effective.
Corner The Market For Your Particular Event With Large Outdoor Displays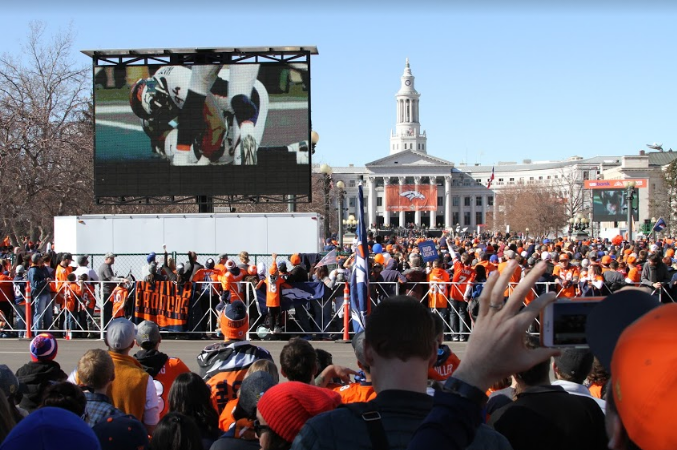 Mobile View Screens can supply a fully installed solution for large outdoor displays also known as mobile LED screen systems. These large LED screens are mobile and completely versatile and can move anywhere at a moment's notice. They are used for sports events, retail and shopping centers, leisure and entertainment events, town centers, advertising and education. Mobile LED screens have now become an unrivalled advertising opportunity for any big event, ramping up the excitement level and bringing the images right to the spectators.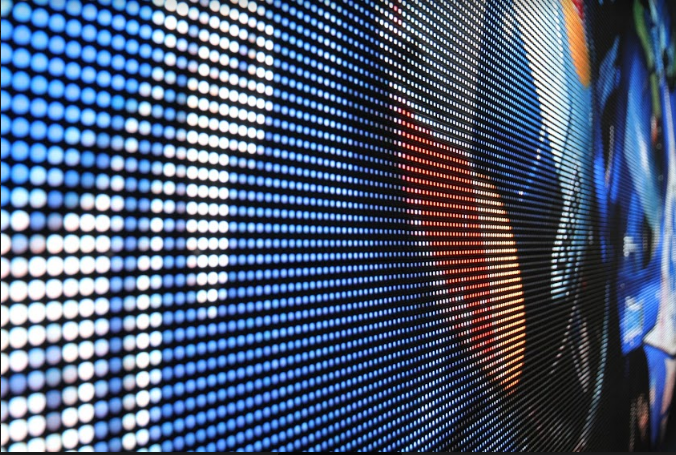 Whether you will be using our large screens for outdoor events or our modular panels that join seamlessly to form any size or shape, the quality of pixels will be perfect from practically any distance. Mobile View Screens will complete any event with their outdoor LED displays giving your spectators the ultimate experience in live screening. In today's competitive market where people's time is so limited, large outdoor displays are an absolute necessity to corner the market for your particular event.

Tags:
Large Outdoor Displays
Large LED Screens for rent
Large outdoor LED Displays
Large Screens for outdoor events
Mobile Large LED Screens
Mobile LED Screens
4 Reasons Why Renting Large LED Screens and Jumbotrons Has Become a Total Must For Outdoor Events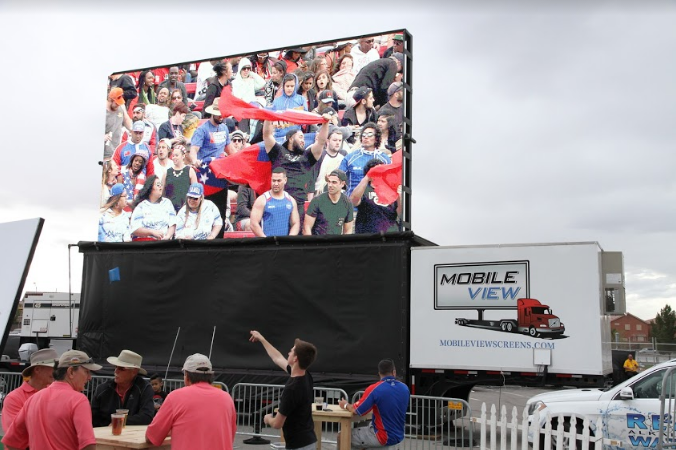 If you're looking for reliable Large LED screens for rent then Mobile View Screens is the company to hire. Our LED screens for outdoor events offer extremely good quality with their high pixel count. Our large selection of LED screens can be set up in record time and are totally mobile.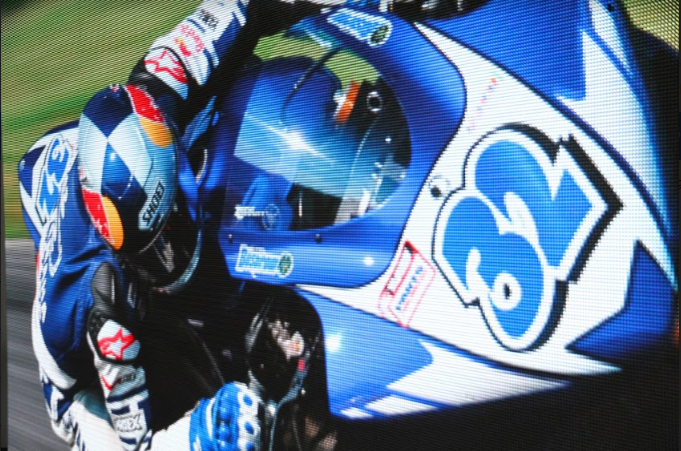 Mobile View Screens and displays has targeted 4 IMPORTANT REASONS why renting large LED screens and jumbotrons has become a total must for any indoor or outdoor event.
FAN ENGAGEMENT – in this new age of constant social media distraction it has become vital that you have an avenue of total engagement with your audience making it easy and exciting to get their attention. These mobile and modular screens offer the perfect opportunity for digital marketing campaigns. They are also the best form of crowd involvement. To add a fun element you can plan to film the crowd by adding on a camera feed.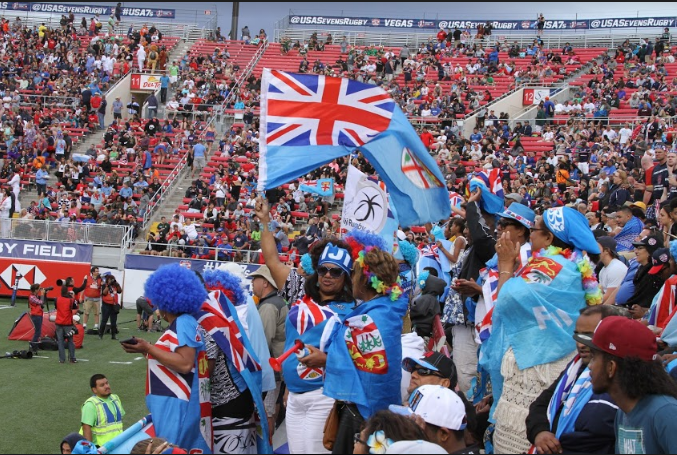 ADVERTISING REVENUE – Long gone are the days of static poster displays at events, in stores and malls. Our dynamic indoor and outdoor screens have now become a cost effective way to reach your target audience and keep their full attention.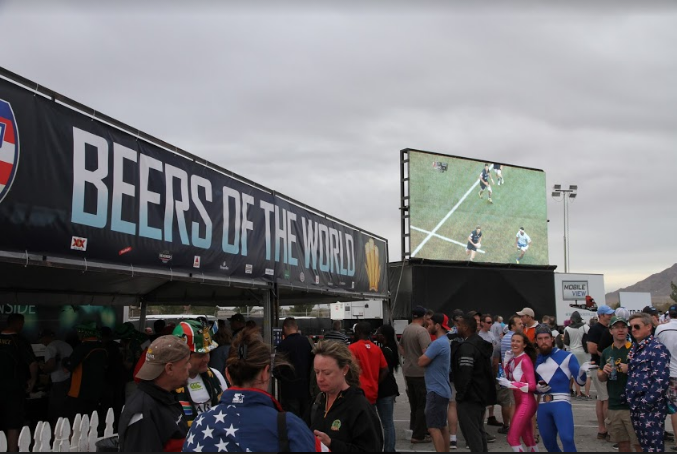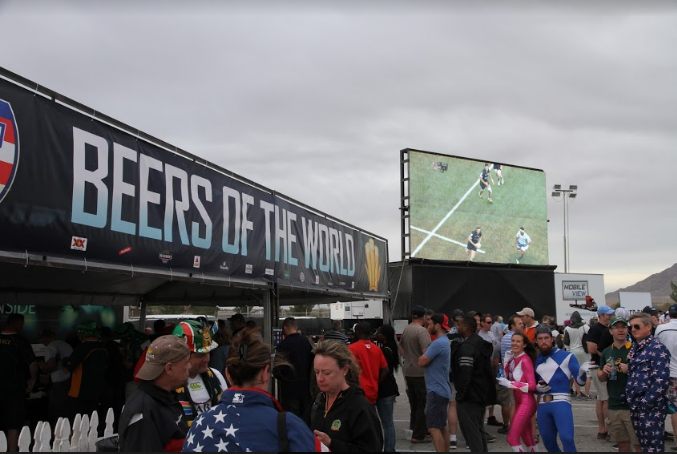 VISIBILITY – Large LED screens offer the top choice in visibility for the audience and fans. Our indoor and outdoor LED screens afford the spectator a perfect front row experience and can be scaled to any size or shape.
RELIABILITY – Mobile View Screens are built to withstand wind and rain and have the technical team to back up any issues that may occur.
All round these Mobile View screens and displays offer the best marketing options available for large events.
Tags:
Large LED screens for rent
Indoor and outdoor screens
Mobile and modular screens
Mobile View screens and displays
Led screens for outdoor events
Mobile View introduces their new modular, high-resolution screens in its rental inventory
MobileViewScreens.com, the indoor and outdoor LED screen rental company, has added high-resolution, cutting edge LED modular screens to its vast inventory of LED display screen rentals. The addition of this high-resolution, indoor and outdoor LED screen technology is a game-changer according to Mobile View President John Sweeney. "With this remarkably portable and high-resolution technology, we can place a high-quality LED screen either indoors or outdoors, at any event you can imagine, in any shape, size or configuration our clients might require."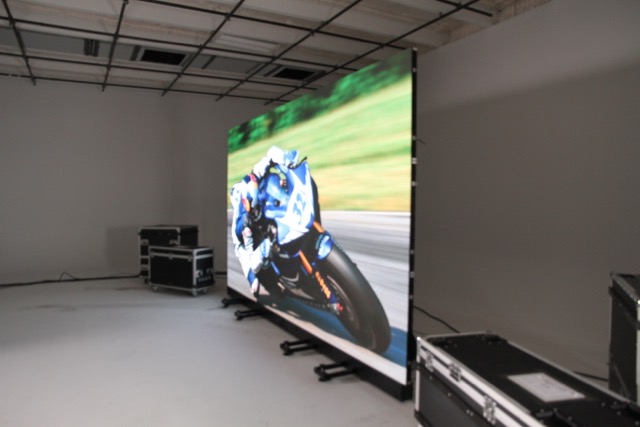 Each LED panel or 'module' is approximately 3′ x 2 ½ feet, and contains more than 16,000 pixels, that can be assembled into any video format required, or into LED displays for advertising, sporting events, marketing displays or any LED permanent or mobile display application. "Many of our customers are now branching out into varying sizes of large LED screens and displays in order to reach a broader audience in unique and creative applications," said Sweeney.
While most applications for the LED panels, or modules remain in the standard 16 x 9 broadcast ratio, newer applications are breaking the mold and expanding the tremendous value that these portable and durable LED panels bring to any event.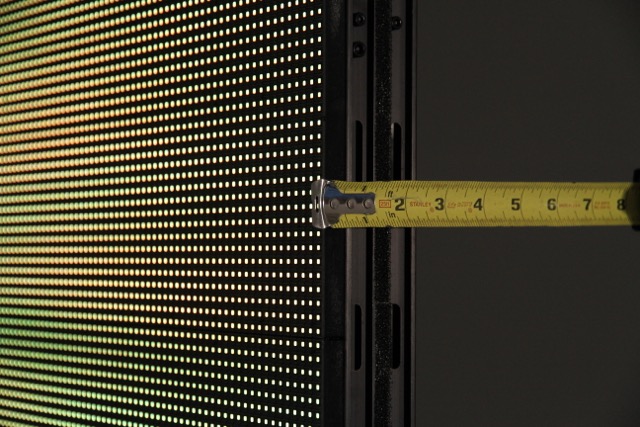 "The technology is advancing at a rapid pace, and Mobile View's commitment to the LED modular market keeps us at the forefront of the large LED display screen rental business." Give Mobile View a call at 303-770-3416 for more information.